Scottish FA president sees benefits of summer football
Last updated on .From the section Scotland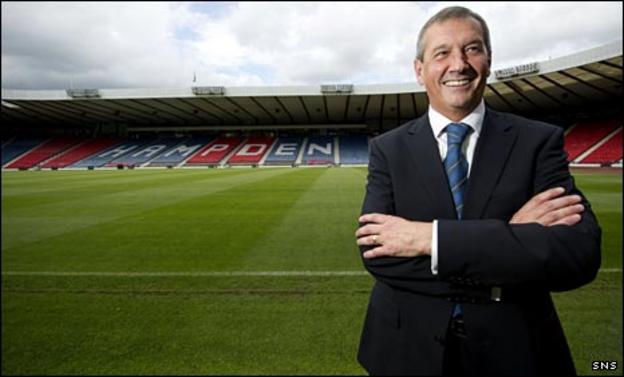 Scottish Football Association president Campbell Ogilvie says it is time for the country to take more seriously the idea of switching to a summer game.
"From somebody who always said football must be played from August through to May, I am starting to take a different view of the matter," he told the BBC.
Scottish women's football has already made the change and been assessed.
"There were 20 different points in that paper and 17 were for summer football and it has proved to work," he said.
The Scottish Premier League brought its season forward two weeks this year in an attempt to improve the performance of clubs in European competition.
But Scottish football's reputation suffered a blow last month after Rangers exited the Champions League in the qualifiers then they and three other clubs failed to make the Europa League group stage.
Ogilvie thought that the reason for the rise of other countries in the world rankings had to be examined.
"There's anecdotal evidence, for instance, with the Republic of Ireland moving from 40 up to 20 odd and teams qualifying," he told BBC Scotland. "You have the Swedish clubs.
"That's anecdotal, but you really have to have an in-depth look.
"Just bringing a league season forward by two games, I don't really think that helps at all."
The SPL clubs recently rejected a proposal to reduce the number of its clubs from 12 to 10.
Meanwhile, a merger of the SPL and Scottish Football League has failed to materialise despite many, including Ogilvie, believing that a return to one league body would be beneficial.
"What we really have to look at for the senior game is to sit down in the cold light of day and look at when and how we play our football," said the former Hearts and Rangers director.
"And, to me, that's part of the league reconstruction debate.
"It is not just about the number of teams. It's how we play our football and when we play the football.
"All I will say at this stage is that we should sit down at this time of year, and it will take a few months to look at in depth, at when other countries play, what are the advantages."
Ogilvie stressed that the process of improving the SFA and Scottish football began two years ago, with the initial focus on the performance side of the game - professional youth development from 11 to 16.
"All development football for a start, I believe very strongly, should be played from March to November for obvious reasons," he added.
"We are talking about youth football, professional youth football, the women's game.
"That's actually coming round to that way. The women are running from March to November and are really seeing the benefits."