Scots furious at Dutch ref's Hampden penalty decisions
Last updated on .From the section Scotland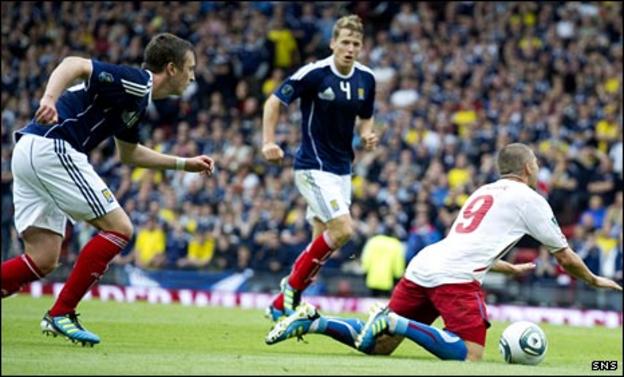 Scotland's coach and captain were united in their anger at the decisions by referee Kevin Blom in Scotland's 2-2 Hampden draw with the Czech Republic.
The Dutchman awarded the visitors a soft penalty in the last minute of the Euro 2012 qualifier but denied Scotland a spot kick of their own soon after.
"I lay the blame squarely on the shoulders of the referee," said coach Craig Levein. "Two huge mistakes."
And skipper Darren Fletcher added: "How he can't give ours is beyond me."
Manchester United midfielder Fletcher, in his first competitive match of the season, set up Kenny Miller to put the Scots ahead on the stroke of half-time with a left-foot shot.
But Jaroslav Plasil showed the quickest of reactions to turn the ball past Allan McGregor with 12 minutes remaining to level the score.
Miller returned the favour for Fletcher by rolling the ball into his path to give Scotland a 2-1 lead with seven minutes remaining and at that point things were looking rosy for Levein, who desperately needed a win over the Czechs and one on Tuesday against Lithuania to keep qualification hopes alive.
But such aspirations were dealt a terrible blow when Blom decided substitute Danny Wilson's challenge on Jan Resek merited a penalty, despite minimal contact - if there was any at all.
Wilson was adamant he had committed no foul.
"I didn't touch him," he said. "I spoke to the player afterwards and asked him if there had been any contact and he said no.
"I got the slightest of touches on the ball. It wasn't the strongest of touches. But, at the same time, I didn't touch the player."
Michal Kadlec was deadly from the spot, firing high past the despairing McGregor.
Scotland pushed for a third goal and thought they too had won a penalty when Christophe Berra crashed to the turf from a challenge by Roman Hubnik as he cut into the box and raced for goal.
Hubnik had been left in Berra's wake as the defender made his surge: there did appear to be contact by the Czech, but it is debatable whether it was enough to bring the Scot down and also questionable whether the Wolves defender sought to drag his leg, inviting the collision.
"I've got to be careful about what I say, but we lost the game not through anything I felt we did wrong," Levein told BBC Scotland.
"The referee made two huge mistakes: a penalty given to the opposition which was a dive and Christophe Berra clearly gets tripped and unbelievably he gets booked for diving."
Fletcher added: "It's a stonewall penalty. I thought they were both penalties, though I've not seen the replays.
"How he can't give ours is beyond me after giving them one in the last minute at a full Hampden.
"If we didn't have bad luck, we wouldn't have any luck at all.
"It is bitterly disappointing. The lads are devastated in the dressing-room; the effort, the commitment they put into the game.
"All we can do is lift ourselves for Tuesday. There is still hope and, while there is still hope, we will keep fighting."
The Scots have taken only five points from as many matches and lie five points behind second-placed Czech Republic, who have played one game more.
Scotland host Lithuania on Tuesday and, if they do not make the play-offs, finish their campaign in October away to Liechtenstein and Spain.
For the Czechs, their remaining matches are at home to Spain on 7 October and away to Lithuania four days later.
Despite his evident dejection, Levein retains some measure of hope of reaching the finals in Poland and Ukraine.
"It isn't over, but now it is far more difficult," he said.
"If we take three points on Tuesday night against Lithuania, it will take us to within two points of the Czech Republic and they have still to go to Lithuania - and they lost to Lithuania at home.
"I know that Lithuania don't have a lot to play for, but in my eyes we still have a chance."
Levein slammed Blom's decisions to book Miller and Scott Brown, cautions that rule the pair out of Tuesday's match, but could find no fault with his team.
"I have to compliment the players today. We played some good stuff," he added.
"We had some excellent performances and they did everything they could to win the game.
"What more can the players do? They gave everything they had and there is absolutely no criticism from me.
"I was trying to explain at half-time that our players are every bit as good as theirs.
"We need to start believing a bit more in our ability because we have got fantastic players."
The pain of the penalty award was felt, too, by Stewart Regan, chief executive of the Scottish Football Association.
He wrote on Twitter: "Gutted like everyone else. Surely a case for use of technology to clarify contentious decisions. Like cricket and rugby league. #scotland."