Clouds gather over Craig Levein
By Alasdair Lamont
BBC Scotland
Last updated on .From the section Scotland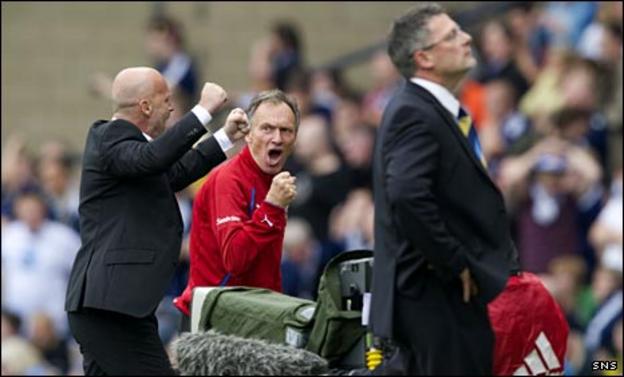 Leaving aside hard-luck stories about refereeing decisions that did not go Scotland's way, the harsh reality is that, in Euro 2012 qualifying Group I, the Scots sit third with five points from five games.
That is not an impressive statistic in anyone's language and sits rather awkwardly with the general upbeat feeling that had surrounded the national team in recent months.
Indeed, you have to go back almost 20 years to find a similarly poor start to qualifying, when Andy Roxburgh's side only mustered five points from five games in their ultimately unsuccessful attempt to reach the World Cup in 1994.
Two of the most beleaguered managers of the national team in recent times - George Burley and Berti Vogts - both managed to amass more points in their opening games than Levein's apparently resurgent side have managed in this campaign.
Yet the current incumbent has avoided the flak that flew in the direction of that pair. But why?
Perhaps a look at Levein's overall record since taking over from Burley is one reason. Including friendly internationals, Levein has a win rate of almost 50% - which, aside from the impressive 70% record of Alex McLeish over 10 games, is the best of any Scotland manager since the seventies and Willie Ormond's time in charge.
During that period, there have been some very encouraging performances: the second-half against Spain, the friendly victories over Northern Ireland, Wales and Denmark.
There have also been some poor ones: the 4-6-0 formation in Prague, for which Levein did take a fair amount of stick, and the less than convincing win over Liechtenstein.
But, generally speaking, it has appeared as though Scotland are heading in the right direction under the former Hearts and Dundee United boss, with a good crop of talented, young players establishing themselves in the squad.
Yet the fact remains, at this stage, Scotland look no closer to qualifying for a major tournament than at any other time in the preceding 13 years, though favours from Spain and Lithuania against the Czech Republic and six points from Scotland's next two games would change all that.
However, the bitter complaints about the refereeing performance in Saturday's draw with the Czechs was surely no more than a smokescreen.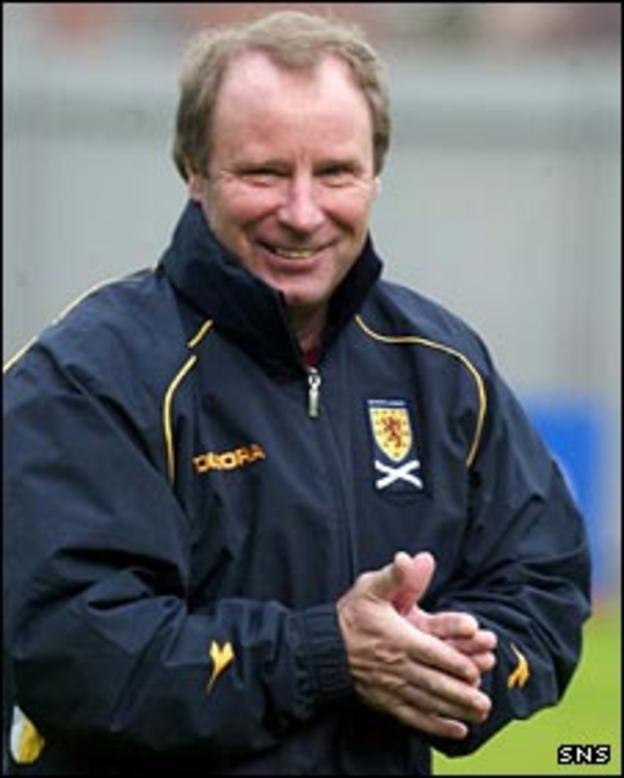 If Scotland had performed as well as so many people had expected them to, a harsh penalty decision here or there would have been irrelevant.
Instead, Levein's side were less than the sum of their parts. Players who earn their crust at the top level in both England and Scotland failed to produce their best, just when their country needed them to most.
Yes, the late penalty decision against Scotland was cruel. But few could argue that a draw was not a fair result on the balance of play.
How much of that was down to the players, and how much to the manager, is open to debate. But to return to the question of why Levein is under far less pressure than some of his predecessors, it is interesting to note the role of the media.
Levein, unlike Vogts and Burley, is extremely media-friendly. He speaks well, with authority, and engages with journalists both on and off mic.
That is to his credit and may go some way to explaining why his competitive record is yet to be seriously questioned. The nation's scribes likely feel he deserves the benefit of the doubt.
On balance, that is probably right, particularly as the back door to Euro 2012 is not yet closed. But, to retain the goodwill of the country, not just the media, Levein will know better than anyone that results must come - and soon.