Darren Fletcher wants introduction of video technology
Last updated on .From the section Scotland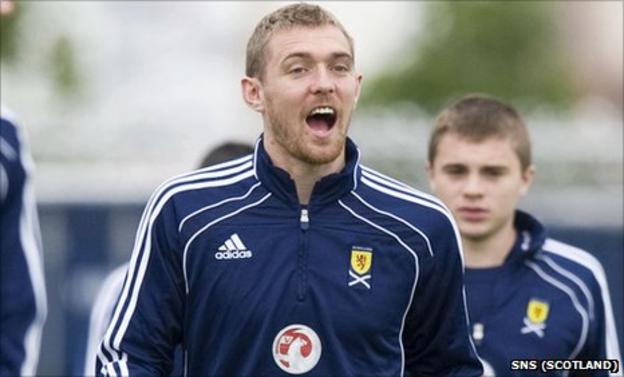 Scotland captain Darren Fletcher is backing calls for the introduction of video technology in football.
"For the sake of a few seconds goal-line decisions and big decisions could be resolved instantly," he said.
"I think it is something that will eventually happen - we'll just have to keep suffering while it doesn't."
Scotland are five points adrift of the Czechs with one game in hand as the two sides chase the runners-up spot in Group I behind leaders Spain.
The Manchester United midfielder admitted that the referee's performance on Saturday had vexed the players, but that the squad is now keen to move on.
"Every time they showed it on television we got more angry. But what's done is done we can't change the result of the match or the referee's decisions," he added.
"We can only look forward to the Lithuania game.
"Crying about it doesn't do anybody any good. Trying to go after the referee doesn't do any good.
"He's made his mistakes but we look back at the game and the position we were in and think we should have won the match anyway."
Craig Levein's side now prepare for Tuesday night's match against Lithuania, with both the manager and Fletcher still hopeful of qualification for the Euro 2012 play-off spot.
"We might not need three wins," Fletcher added.
"We might only need two and we're more than capable of winning on Tuesday and away in Liechtenstein.
"It's now up to us to prove that.
"If you look at the group as a whole there have been a lot of strange results flying around.
"I think we've been unlucky at times too. But we've got the chance to rectify it so we'll keep fighting."