Chick Young's view on Scotland

By Chick Young
BBC Scotland football pundit
Last updated on .From the section Scotland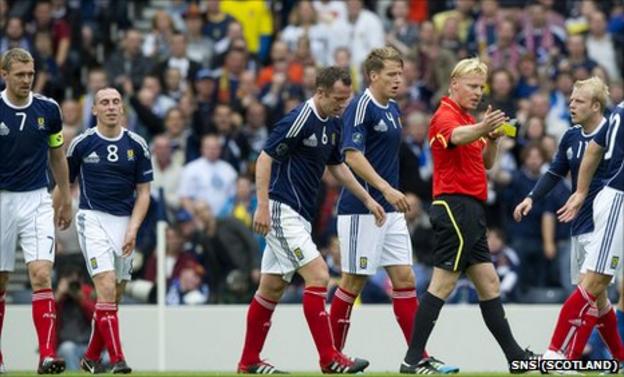 Right, that's me sorted for Euro 2012. I'm going to rent a wee apartment in Spain and watch it on a flat screen the size of a snooker table.
Well, there's no point in going to Poland and Ukraine if our lot aren't playing there.
And they won't be. I believe I'll have a drink when I'm watching the games, but I don't believe in miracles.
The moment we failed to beat the Czech Republic, the moment a dodgy Dutch dud of a referee refused to award Scotland a penalty when Cristophe Berra was fouled - although admittedly he did go down like he was playing a kids' game of best fall - we were a burst ball.
Kevin Blom isn't a bad referee because he had three penalty decisions to make and got them all wrong, but rather because he has a bad manner and seems to think he is on an incentive scheme to flash yellow cards.
Beware the referee who marches towards sinning players like a jackbooted henchman.
One leading Scottish official I spoke to in the wake of the game questioned - a little too gleefully for my liking - whether indeed, as was the much trumpeted argument during the strike, foreign referees were indeed the way ahead.
Saturday was a low. I left Hampden feeling like a man who had put his winning lottery ticket in the spin dryer.
We had the Czechs by the throat after Darren Fletcher's wonderful goal, shaped and engineered by the graft and craft of Kenny Miller, whose toil for the cause was a joy to watch.
And had we won that one the train to Poland and Ukraine was gathering a momentum that wouldn't have paused for thought until the play-offs.
But we're derailed now.
We'll probably beat Lichtenstein in Vaduz, although don't take that as a given. Frankly, I consider that little nation - I've seen bigger housing schemes - to be a better side than languid Lithuania who were, quite frankly, dross.
But if you think that in the wake of that we are going to Alicante for a Spanish stroll because the champions of the world have already qualified and so will be horizontal with relaxation then you have no grasp on quite how difficult this situation really is.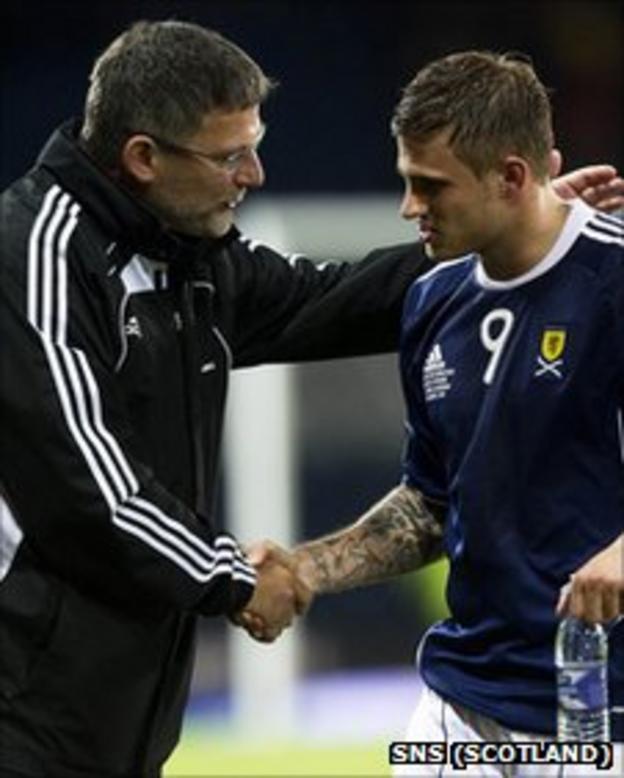 Either that or you've been consuming sangria by the bucket.
I'll give you a wee hint about the magnitude of the task. Spain have won 41 of their 47 games under Vicente Del Bosque. And victories for us are rarer than libraries and museums on Benidorm's seafront.
No, not this time, my friends. Another major finals, another summer in the wilderness. And that means that - at best - it will have been 16 years without an appearance at Euro or World Cups. I'll wager there are murderers who have served their time in that stretch.
But there is a shaft of light.
If you cannot see that Craig Levein is shaping a team, if you cannot see that he is unearthing players, if you cannot see progress then try laser surgery, an optician or get a talented labrador.
Scotland are a work in progress, one which publicly we hoped might be ready for delivery for the autumnal series of games which were to shape our qualification hopes, but which in truth couldn't make the deadline.
Somewhere down the road better days are coming. Just give the manager an even break.
In the meantime you can dream if you like of nights with Polish sausage and tumblers of vodka and of being in Ukraine and wondering what on earth persuaded Uefa to take a finals to one of the unprettiest countries on earth.
But don't expect to have a Scottish team riding shotgun with you out east.
Me? I think I'll just not bother coming back from Alicante and get myself ready for the summer...