Chick Young's view on Rangers

By Chick Young
BBC Scotland football pundit
Last updated on .From the section Scotland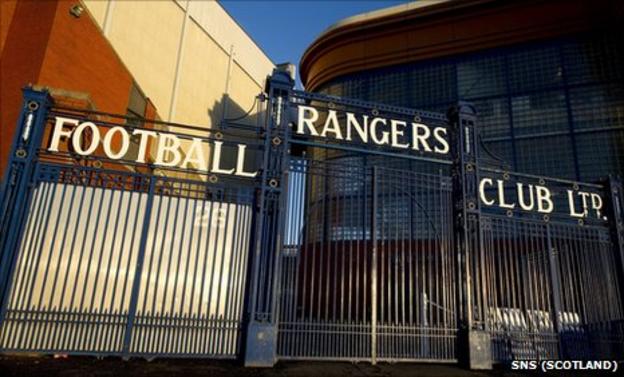 It's some high jinks. Rangers-watching at the moment is like the pantomime season come early.
Supporters of the club will of course find the threat of administration - and it clearly exists - as funny as root canal treatment, and, curiously, the extraction of information from Ibrox can at times be exactly like pulling teeth.
New owner Craig Whyte is currently using certain areas of the media to shovel heaps of blame on to previous owner Sir David Murray, sounding at times that he is an innocent victim of gross mismanagement.
Or to translate into the Glasgow parlance: "It wisnae me, pal."
Whyte makes some fair points.
It is true that he did not have to elbow his way into a queue of people ready to pay up for the right to own Rangers.
And, yes, he did inherit a bank balance which read more like a plate of Alphabetti Spaghetti than a well-ordered row of figures.
But then it should haven't come as a shock.
His due diligence would have informed him of such a state of affairs and it was public knowledge that part of the deal was that he would embrace the first tax bill of £2.8 million, along with squaring up Lloyds Bank and clearing £18m debt.
He's a man with a bee in his bonnet at the moment, Mr Whyte, currently raging at former chief executive Martin Bain and the Court of Session where Lord Hodge confirmed that the club will face potentially serious consequences if the forthcoming HMRC tax tribunal delivers a wee bit of a coupon buster.
And Whyte, of course, is entitled to slice this however he likes, but from this distance, I have to say it is a shambles.
Coaches and managers will always tell you that the machinations of football club directors never affect the team, as though the boardroom and dressing room are independent states and never meet. This is utter tosh.
People want to know why Rangers seem reluctant or unable to pay their bills on time.
If it is going wrong upstairs, them the bad smell will pollute the entire building. Players know the score - they are as much traders of gossip as the rest of us.
Every man under Ally McCoist will be aware of the confusing state of financial affairs at Ibrox and yet the players have stuck steadfastly to the job of winning football matches. Well, most of them.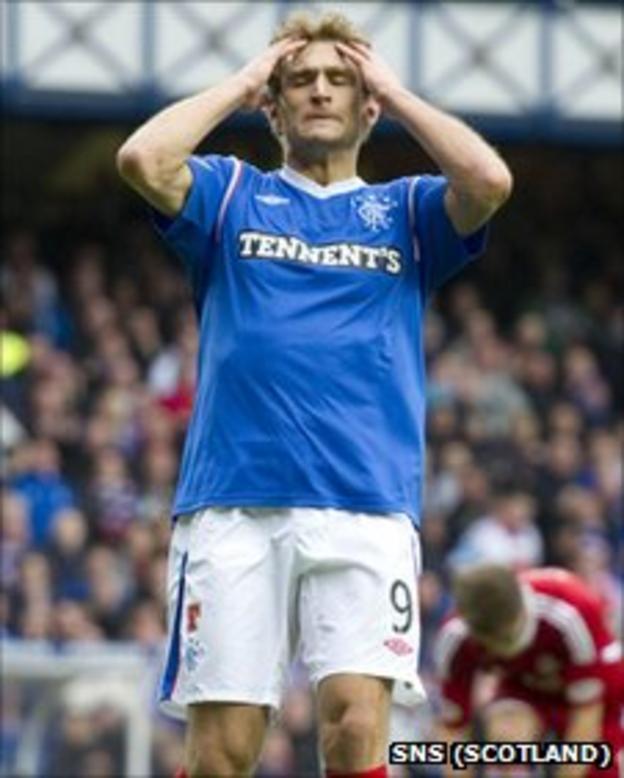 The performances in Europe were akin to those of a bunch of blokes whose world was about to collapse.
Frankly, in the infancy of his managerial career, McCoist has produced some remarkable stoicism while all around him seems to be stark-raving bonkers at times.
A divide in a football club is about as welcome as a hamstring tear, and, of course, McCoist has been thunderous in his proclamation that there is no split.
His public face has been brilliant, and not once - Maribor apart - has he allowed his face to look like a bag of nails.
But he is worried about the future of the club he loves.
I share the cynicism of Peter Lawwell, the chief executive of Celtic, who registered as a fantasy that Rangers had refused a £9m bid for Nikica Jelavic.
It didn't happen and if it did they should be accused of lunacy for rejecting it. That would be a £5m hike on a fine footballer, but in these troubled financial times for Rangers a 100-plus per cent profit would be a golden egg.
I don't think certain elements of the Ibrox club handled Lawwell's jibe about Celtic in turn refusing a £29 million bid for Gary Hooper with much grace.
Have we really laid to rest the art of humour when it comes to these two clubs?
Wasn't it once Celtic who were accused of paranoia? Their crown is slipping.
The big picture at Rangers - that of Whyte buying a club which is now £30m in debt and facing a tax bill tsunami just doesn't make sense, and, if the club goes into administration, a suggestion which a few months ago could only be whispered - then it is ruinous not just for the club.
Ten points will be whipped from them and the title race will be over, leaving Scottish football red-faced with embarrassment that its competitive edge has evaporated in a heartbeat.
And Glasgow Rangers will face their darkest hour.