Chick Young's view on the Old Firm

By Chick Young
BBC Scotland football pundit
Last updated on .From the section Scotland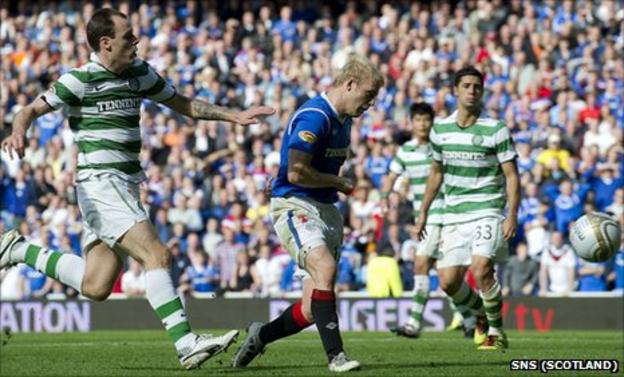 Let's talk football, an unusual delight for the humble soccer writer these day.
There was a time the trade allowed you to do little else. There was no need to tap into the craft of the financial correspondent or the crime reporter.
All that was in more innocent - or maybe just naïve - times. All change these days. It's all too much about banks and bigotry.
So take a bow, the Old Firm.
At last, at long last, a Sabbath whose peace was not shattered by shame and shock, a Monday morning not peppered with headlines shaped for the front page. At last a pleasant day out and only the game to dissect, analyse and slice.
And managerial handshakes all round at full time.
Celtic fans meanwhile might have felt more inclined to shake Georgias Samaras warmly by the throat.
The Greek was pulled aside by manager Neil Lennon 80 minutes or so before kick off and emerged from the on-field chat looking like he had just found a wasp in his moussaka. I assumed he had just been told he was out the team.
I got that wrong. It was the news that he was IN the team that gave him the shell-shocked look.
It wasn't all I got wrong. I fancied Celtic to win at Ibrox but saw neither the Rangers courage, desire and hunger, nor the outbreak of football coming.
Ally McCoist has been spectacularly singled-minded in divorcing the boardroom machinations from his dressing room. It didn't work in Europe, but you cannot argue with his domestic bliss. Take a look at the league table.
His growing expertise in the management game was underlined by the handling of Gregg Wylde, who had a first half in which he looked as if he had wandered into the wrong movie.
His touch had evaporated and he looked as if he was being asked not to run at Mark Wilson, but to play a game of tig with an alligator. Frankly, I expected him not to re-emerge from the dressing room after the first 45 minutes but McCoist saw a different wheeze.
He cuddled, calmed and cajoled him and reshaped young Wylde into a different animal. The pay-off was spectacular.
Celtic, meanwhile, were mysteriously inept.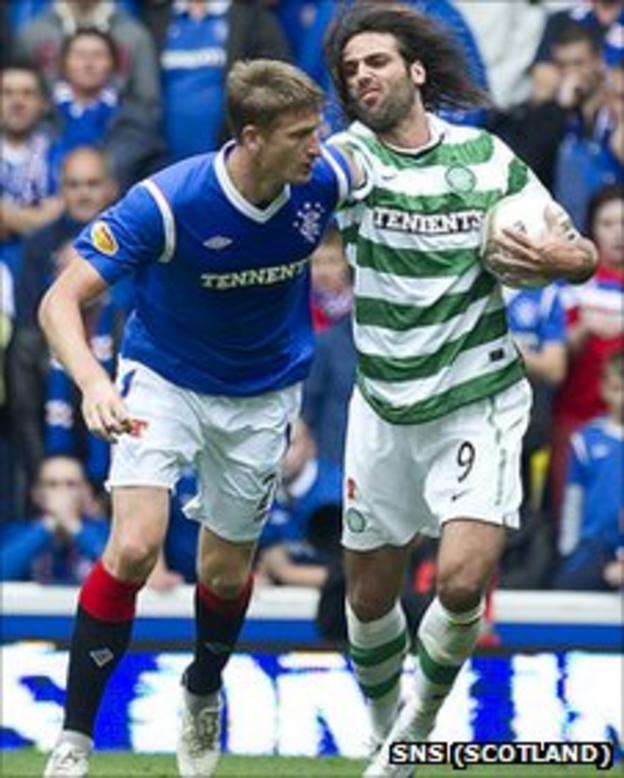 Only, when they went 2-1 ahead thanks to Allan McGregor who for one uncharacteristic minute looked like he was have been goalkeeping in clown shoes and furry mittens, did they look like potential winners.
But Rangers wanted it more. Played like they needed it more. And maybe they did.
The win bought time for the under-fire board and unhinged the doubts of some Rangers fans who wondered privately if McCoist is indeed the man to succeed Walter Smith.
Lennon's team selection - in particular the inclusion of the aunt Sally figure of Samaras - did raise eyebrows. The manager's logic was that he needed his height and that he had been a speciality act at Ibrox before.
Some were questioning the exclusion of Kris Commons, who is so far out the picture he really should be on a missing persons' list, and some even wanted to know what had happened to Daniel Majstorovic.
I didn't get that one. That'll be the Majstorovic who at times has been as mobile as a Dalek in a corn field.
It wasn't the selection that let Celtic down even if, just a week earlier, Lennon had observed how difficult it would be to leave James Forrest out the team and then proceeded to do exactly that.
Rather it was that their key players didn't produce. Ki himself and Kayal. Pre-match Celtic looked like they had all the class in the midfield. But it sure didn't turn out that way.
Plaudits for Rangers, re-assessment for Celtic.
But at least we got the ball out the cupboard again.