SFA's Campbell Ogilvie hails new disciplinary review rules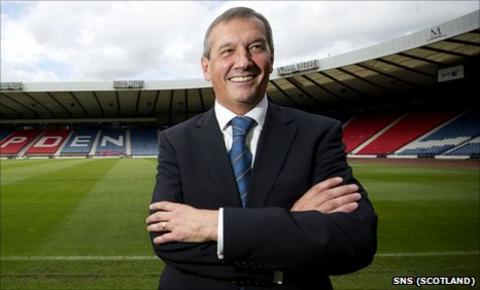 Scottish Football Association president Campbell Ogilvie has declared new disciplinary rules a success despite Rangers' concerns over Steven Naismith's two-match ban.
Naismith became the first player to be retrospectively punished after elbowing Dunfermline's Austin McCann.
"It was dealt with in very timely fashion," said Ogilvie.
"In the past some of these cases were still being dealt with maybe five weeks down the line."
Rangers manager Ally McCoist has called for openness over who applied the ban despite deciding not to contest the ruling that followed Saturday's 4-0 win at East End Park.
The decision was taken by the SFA's temporary compliance officer, under reference to the laws of the game.
Naismith was given an automatic two-match suspension after television footage of the incident was reviewed under the SFA's new regulations by an individual contracted from a law firm.
An independent three-man panel would have been convened to decide on Naismith's guilt had Rangers challenged the sanction, with the compliance officer effectively acting as the prosecution.
Ogilvie, speaking after conducting the Scottish Cup second-round draw said: "The one that has come forward this week has been very high profile.
"It has been dealt with at arm's length from the general running of the SFA and that's one of the things the club wanted.
"The compliance officer will deal with each case on its own merit.
"Naturally, when it's a high-profile case involving one of the bigger teams, there will be more publicity around it.
"But the key to this is he will deal with every case in the same manner."
The SFA has clarified that any incident studied by the compliance officer will be publicised whether action is ultimately taken or not, which means Naismith is the only player to have been the subject of retrospective action under the new system, although there have been eight claims of wrongful dismissal.
It remains unclear who informed the compliance officer of the Naismith case, although the publicity from live televised coverage and other media meant he would have inevitably been aware of it.
"The compliance officer can act on any information at all," said Ogilvie. "It doesn't have to be an individual.
"He can act on whatever information is to hand.
"It can be brought to his attention by any means whatsoever. I think it's fair to say that, when games are televised, incidents are pretty public knowledge."
However, questions have been raised as to why the compliance officer did not study an incident involving Gary Hooper and Motherwell midfielder Steve Jennings, who claimed the Celtic striker had struck him with his arm during his side's 4-0 defeat on 10 September.
Jennings, like McCann, did not call for action to be taken, but he claimed he had been deliberately hit and the incident was captured on camera, although pictures were far less conclusive than in Naismith's case.
Ogilvie is confident the system will prove acceptable to clubs in the long run, with a permanent compliance officer expected to be appointed in the next few weeks.
"We believe we have made the process more transparent," Ogilvie said.