Chick Young's view on crunch time for Scotland

By Chick Young
BBC Scotland football pundit
Last updated on .From the section Scotland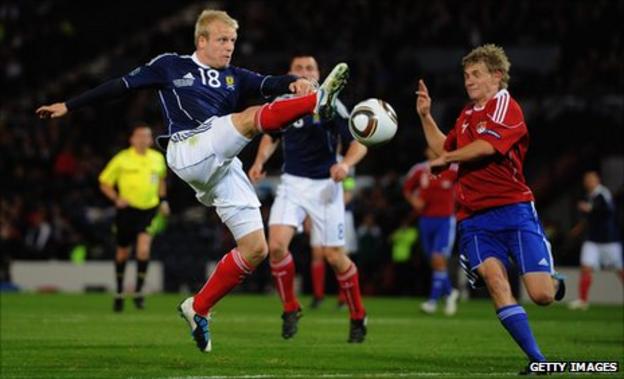 Cometh the hour, cometh the man. All right, cometh the three hours, cometh probably about 14 men. But you catch my inspirational drift.
Forget those pesky Czechs and what is happening elsewhere, the cold truth - and we are talking Arctic temperatures here - is that Scotland need to win in Vaduz and Alicante to have an iceberg's chance in Hell of making it to a play-off.
I'll be frank: I don't fancy us.
Scotland, I fear, will be forever haunted in this group by the two matches against the Czechs - the first in Prague, where an over-populated midfield failed to embrace the 0-0 scoreline we so desperately craved and then at Hampden, or Divegate as history may christen it.
This, I fear, will be a campaign of lost opportunity, although at least we should be able to transport our dreams to the Costa Blanca, where so many Scots can journey remembering the good times in nearby Benidorm.
Except Xavi and Thiago and Puyol and Torres won't turn up wearing kiss-me-quick hats and slugging sangria.
But anything else than a win, no matter how late or how flukey, is unthinkable against Liechtenstein.
And yet it won't be easy. Frankly, I believe the team from the principality - where they are so rich they play Monopoly with real money - are actually better than Lithuania, who were dross at Hampden.
The fever that will be the consequence of this Saturday night is that we don't win. And please don't use words like "stroll", "walkover" or "bag", "the" and "in". This is far from a given.
All we can ask - maybe even demand - is that Scotland fly over the Alps with the full quota of points in the hold and hope that those lovely Spanish people have done the business in Prague.
If they haven't, you may be about to witness the greatest deflation of a dream since the bloke who invented Betamax.
Our game against Spain on Tuesday night takes place in the Jose Rico Perez Stadium - home of Alicante's Hecules and, fair enough too, because Herculean is the measure of the task facing Craig Levein and his team.
Champions of Europe and the world, Vicente del Bosque's squad have underlined their quality by qualifying for Poland and Ukraine with a so far 100% record.
Are you beginning to get the picture here?
Let us not mince our words, my friends. Never mind beating England at Wembley, or France at Paris. If Scotland win in Spain on Tuesday night, it will be this country's greatest-ever result. Bar none.
In fact, the biggest shock since David 1, Goliath 0.
But not if we have blown it in Liechtenstein, not if victory is to be as hollow as an Easter egg.
Still, if in doubt, thumb through the history books. It's like watching Braveheart and making you feel good about being Scottish.
I was 12 when I read the back pages and the jaw-dropping story of a Scotland team who went to the fabled Bernabeu Stadium in Madrid one summer's day in 1963 and beat Spain 6-2.
Nearly half a century on, I can recall my utter astonishment. But, trust me, in comparison, it will be a mere raising of an eyebrow to the laying horizontal with shock of your old reporter should we win again by any scoreline far less score a fantasy six.
But, for all that, if you don't buy a ticket, you will never win the raffle.
So let us boldly go and meet our fate, win in the wee L and then onward to the land of football giants.
But I'm not holding my breath.
The draw for next summer's final takes place in Kiev on 2 December and if we are in it then Craig Levein should then embrace a couple of simple tasks like stopping global warming and securing world peace.