David Bogie the pick of rallying bunch
By Rhona McLeod
BBC Sport Nation
Last updated on .From the section Scotland
There's an exciting young talent driving the pace in British rallying - and he's Scottish.
The 24-year-old David Bogie, from Dumfries, is the first driver in history to hold the British and Scottish Rally Championship titles simultaneously.
The manner of this achievement is also remarkable.
Bogie clinched the Scottish title in August with two rounds remaining in the six-event championship.
On the 24 September Bogie finished 3rd in the Yorkshire rally.
This result ensured he and co-driver Kevin Rae had enough points to be crowned British Rally Champion for the first time.
Talking to me at the start of the season, Bogie admitted he may have to cherry-pick his races for financial reasons; that he may have to prioritise one of the events.
History now tells us that Bogie not only competed in both, but his consistency and skills meant he was the man being chased throughout by both fields.
Bogie made his first big impression in 2009, age 22, becoming the youngest driver since Colin McRae to with the Scottish Rally Championship.
As a presenter for BBC Scotland of the Scottish Rally Championship, I have met Bogie on several occasions and have always been impressed by this calm, gracious and friendly young man.
I recently had the opportunity to spend a day with him and his technical team at a day's testing in Greystoke Forest near Penrith, Cumbria.
The purpose of the day was to test various performance factors with his Mitsubishi.
It's a highly technical exercise with laptops, tweaking and driving at high speeds along forest paths.
Close up, standing at the side of the track, the speed is incredible and so is the noise.
Bogie is always coy about the costs involved of driving for the season, but the costs of one day's testing alone must have been steep.
A rescue ambulance crew was hired and maintained for the day, in addition to a team of mechanics and marshalls to ensure safety was kept to the highest standards.
At the head of this gathering was Bogie, relaxed and businesslike knowing the importance of the job in hand.
In the final part of the day, as Bogie said, "just when the car is going really fast," I had my chance to experience what it's like driving with the best in Britain - and it was incredible!
I have to admit I was concerned and nervous beforehand.
I tend to be an edgy passenger when others drive, and so this was going to require a whole new level of trust in the man behind the wheel…as he roared along narrow paths at over 100 miles per hour!
Securely strapped in, helmets on and intercom mics to talk, we were ready, and from a standing start we catapulted along the forest track.
With every change of gear, my head was jerked forward and back, and remembering to breathe took a little concentration.
Looking at the film of the drive, I managed a few half-questions between shrieks and yelps!
But most of the time I am half-smiling in a mixture of awe, fascination and fright as we hurtled through the trees.
The overall feeling is of "go and stop".
Massive accelerations on the straights - top speeds of 125mph - to rapid and screeching, head-bobbing halts before racing around acute angled bends.
As I gripped the sides of my seat and clenched my stomach muscles to keep me in place, I had a fleeting thought for Bogie's co-driver Kevin Rae who does all this, while reading the notes - impressive on so many levels!
Inside the car was an alien array of buttons and switches, with a reassuring selection of roll-bars and cages.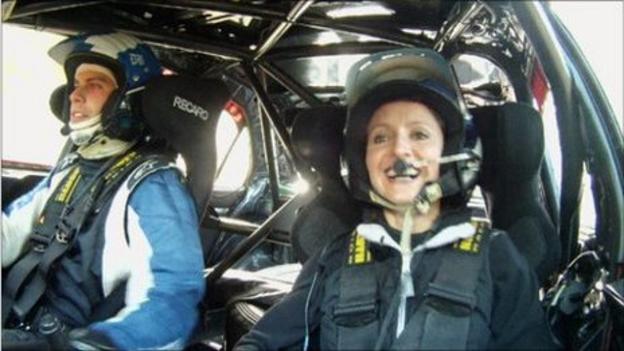 By halfway round, I began to relax, managing to put all thoughts of rolling off the track far from my mind.
There's no doubt that this was down to Bogie's skills as a driver and his aura and confidence was highly reassuring.
I was incredibly impressed by his handling of the car at high speeds and on a slick surface.
Earlier in the day, making my way onto the track, I had slipped and slithered along in my own car at 30mph on bends he was commanding at 90!
It was a wonderful experience and I feel privileged to have had the opportunity.
Having won the British, and dominated the Scottish Rally scene, what lies ahead for Bogie?
The World Rally Championship and a pro team is the next step if Bogie is to follow in the steps of his late friend and mentor Colin McRae.
Scotland has a proud and celebrated history in rallying.
As yet Bogie remains coy as to any opportunities, but this controlled 24-year-old would seem to have all makings to put Scotland back on the world stage.
You can see Rhona's day of testing with David Bogie on Sport Nation, Tuesday 4 October, BBC Two Scotland.