Scots wary of Liechtenstein
By Liam McLeod
BBC Scotland in St Gallen
Last updated on .From the section Scotland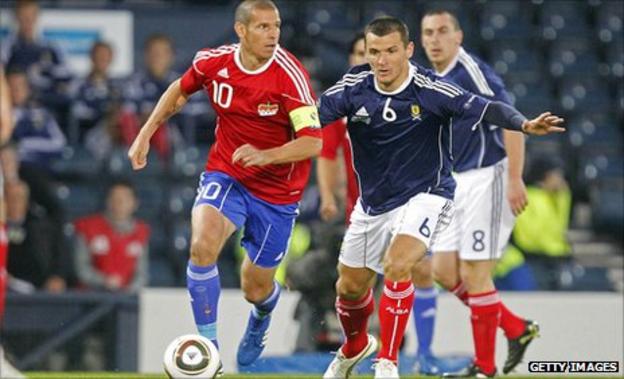 Picture the crazy scene. There's 94 minutes on the clock on the giant screen shining down from Hampden Park's West Stand with the score underneath reading Scotland 1-1 Liechtenstein.
Scottish substitute Barry Robson has a free-kick just outside the box.
Punters in kilts, who had left their seats in dejection, turned round at the top of the stairs in the vain hope that the Middlesbrough man would find the minnows' net. Surely he would.
Surely there was no way - despite Peru, despite Costa Rica, despite Toftir - that the nation was going to be held by little Liechtenstein - a country with a population smaller than the 37,050 crowd that gathered in Mount Florida last September.
But, as collective breaths were held, Robson's free-kick sailed over the bar.
The booing was almost drowned out by the scribes penning their Wednesday morning headlines.
That was that then. I thought it, the fans all thought it and I'm pretty sure Scotland coach Craig Levein thought it too.
But the injury time ticked on and, within a couple of minutes, Robson had the ball again, but at a corner.
What followed was incredible. You can get carried away in a moment like that and I, like everyone else, did.
It didn't matter it was Liechtenstein. It could have been the might of Brazil. This was a 97th-minute winner.
"It's amazing the difference a goal can make, eh?" said Levein in the aftermath.
The difference being a win instead of arguably the worst result ever suffered by the Scottish national team.
The campaign has been frustrating for various reasons since then.
But that is all in the past. The slim chance Scotland have of progressing is what matters.
And here we are, in the city of St Gallen in north-east Switzerland.
The Scots squad are based here near the Appenzell Alps for part one of the final double-header of the campaign.
Once again, it's Liechtenstein who lie in wait, in Vaduz - 40 minutes and a border south of here.
And, if anything, coach Hans-Peter Zaugg's men have increased their reputation since their almost legendary Hampden visit.
The only country to have lost to San Marino are targeting finishing above Lithuania in Group I, having beaten and drawn with them in the last six months, though that win is their only one in 18 competitive matches.
But, if a similar Scots squad can toil at home to this lot, what damage will this tiny nation feel they can do at home?
Just five years ago, a Portuguese side featuring messers Ronaldo, Deco et al, were held to a 2-2 draw, Liechtenstein's best-ever result.
The word of warning to the Scots being that the return finished 2-1 to the home side, a game in which Portugal, like Scotland a few years later, were a goal down.
The one thing that has to be acknowledged about Liechtenstein international footballers is that their involvement in the Swiss leagues has improved their competitive edge.
For example, defender Martin Stocklasa plays here in St Gallen and had a spell with Zurich, where midfielder Martin Buchel currently plays.
Indeed, the latter had a spell with Deportivo La Coruna's B team last campaign.
Teenager Sandro Wieser is their up-and-coming player. At 18, he already has nine caps, having been handed a national debut at 16.
He won the Swiss title with Celtic's old foes, Basel, last season.
Then there's Mario Frick, who appears to be winning his race to be fit for Saturday's clash.
The man who has 102 caps' goal at Hampden last year was class.
This is a guy who played with former Chelsea striker Adrian Mutu and Italian World Cup winners Mauro Camaronesi and Alberto Gilardino at Verona during his nine years in Italy's Serie A.
Of course, as big a game as the one in Vaduz is the one happening nearly 400 miles away in Sparta Prague's Generali Arena 24 hours earlier, as Spain visit the Czech Republic.
A Spanish win is needed, though Mikel Kadlec - who scored the controversial late penalty against the Scots last month - reckons they can beat the world and European champions, almost rendering anything Scotland do as academic.
Coach Zaugg believes his team has no chance of taking anything off Scotland.
Believe any of this at your peril.