Chris McLaughlin's Vaduz diary - Friday
By Chris McLaughlin
BBC Scotland in St Gallen
Last updated on .From the section Scotland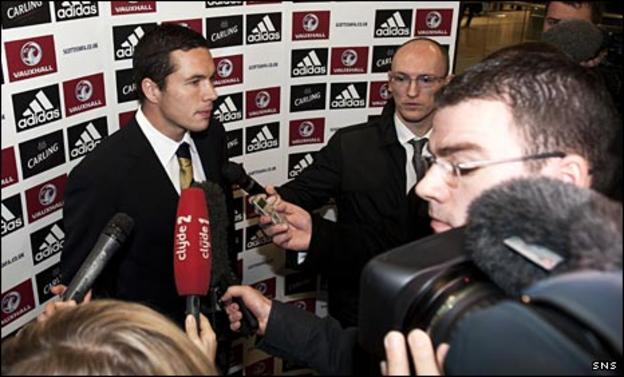 So what do you do with a rubber duck in a hotel room with no bath? That was the tricky dilemma I was faced with after checking into my hotel here in St Gallan.
I spotted the little guy sitting proudly next to the sink, ready for a swim but with nowhere to go. Preened and ready for action but no stage to strut his stuff. Yes, day one of the Euro 2012 double-header trip was a day of confusion.
It all started early at Glasgow Airport when the Scottish Football Association chief executive, Stewart Regan, rushed up the escalator to surprise a bleary-eyed media pack with an impromptu statement.
We were expecting a player and maybe the manager to speak before they jetted off, but here was the top man - readying himself in front of TV cameras and microphones while his PR man handed out a statement that no-one was expecting.
It was information about the arrest of Motherwell midfielder Steve Jennings and allegations of betting irregularities in Scottish football. An unexpected and unwanted start to the day for the SFA.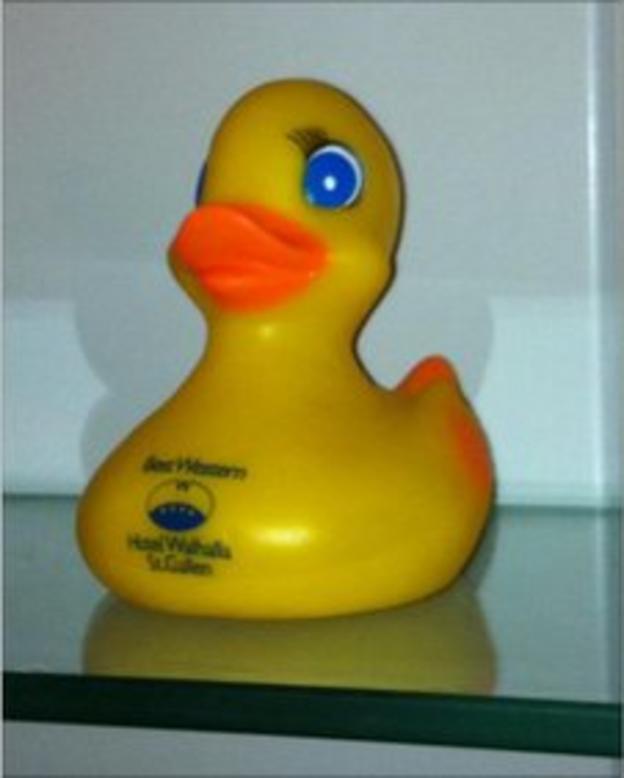 Then on to the Estonian plane for a trip to Switzerland, where Scotland will prepare to meet Liechtenstein.
Confused? Imagine the confusion when we landed to hear the news that Wayne Rooney's father and uncle had been arrested for conspiracy to defraud surrounding December's game between Motherwell and Hearts. Journalists' jaws were swaying in the Swiss breeze as the news filtered through.
As track-suited footballers mingled with wily old worsdsmiths at Zurich's baggage carousel, though, the focus was back on the upcoming games, although the confusion continued.
"So, if the Czechs draw against Spain, can we draw against Liechtenstein and still go through?"
"What happens if we beat Liechtenstein and draw against Spain?" The permutations and possibilities are endless.
There are no such questions in the Scotland camp, though. They know exactly what has to be done and, despite big injury worries, they say they are ready to deliver.
Head coach Craig Levein confused a nation when he fielded a 4-6-0 against the Czechs at the start of the campaign, but since then he has learned from his mistakes and has concentrated on raising expectations instead of eyebrows.
Scotland may be hanging on by their fingernails - but, with two games to go, they have a chance.
Unlike my rubber duck. He is consigned to a lonely life by the sink.