Coach Craig Levein settled in Scotland's top job
Last updated on .From the section Scotland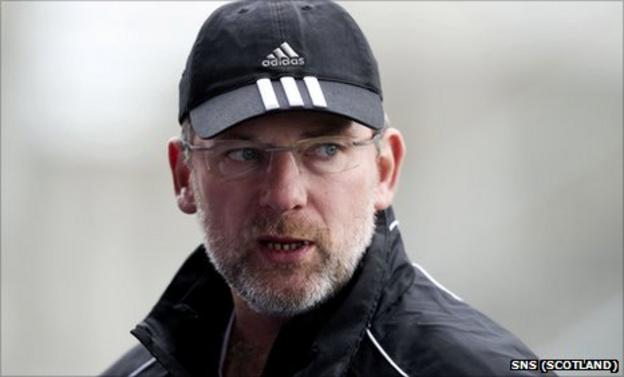 Craig Levein says changes at the top at the Scottish Football Association helped him overcome initial misgivings about his role as national coach.
"There were a number of things that were eating away at me," said Levein.
"But, with the progression of the players and seeing the players develop along with the team, I feel much more ownership of what's going on.
"With Stewart Regan and others coming in, there's a momentum about the organisation I'm comfortable with."
Chief executive Regan has spearheaded changes to the SFA's structure that Levein says have made his job easier and any initial concerns he had about leaving club management behind have been cast aside as he builds a team for the future.
"There's a lot of good times going on and it's a joy to work with this group of players," the head coach told the BBC.
"I've always had the passion - it's the understanding of the job that's been difficult.
"It's why I took the job - because I'm passionate about my country and it's a great honour to be the manager.
"It's understanding what's needed to make the team successful.
"It's difficult, but I feel that it's improving and I'm getting better at it."
Levein took the Scotland job after spells in charge of Cowdenbeath, Hearts, Leicester City, Raith Rovers and Dundee United.
"My previous experience was only ever club football," he said.
"The problems I had were coming to terms with the job and frustrations about not being able to make changes as quickly as I would like."
Scotland take on Liechtenstein and Spain in their final Group I qualifying matches, with progression to the finals in Poland and Ukraine next year hanging in the balance.
Levein admits the campaign has been difficult but believes his team is starting to take shape.
"It takes time to mould a team and get players playning and working together," he added.
"We've had about 15 matches in total, which isn't a long time to develop a team, but in international football there's so much attention that focuses on the gatherings, which is a necessity to put everyone under the microscope and do things quicker than you would do at a club.
"I think we've moved quite quickly and we're in a good place.
"There still are pangs of wanting to be on the training ground every day and work with players.
"It always helps when you know the character of the people you're dealing with, but I believe firmly that we're improving at a rate of knots."