Chris McLaughlin's Vaduz diary - Sunday
By Chris McLaughlin
BBC Scotland in St Gallen
Last updated on .From the section Scotland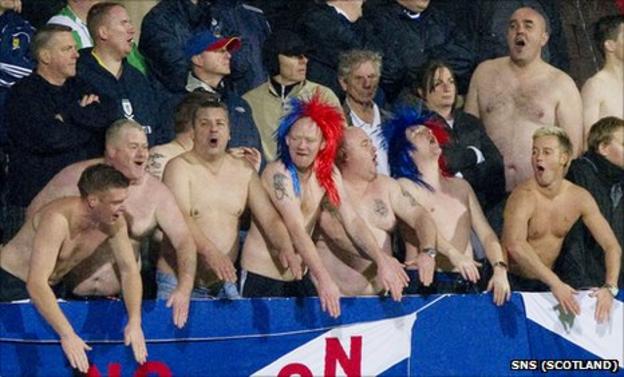 Before flying out to St Gallen, the weather forecast for game day was nine degrees and rain. Ever the optimistic, I casually ignored the warning and packed with the Spanish leg of the trip in mind.
I was cursing my stupidity as I made my way through the Swiss streets, hunched against the driving rain in a summer jacket and dreaming of La Manga. 
Yes I had taken my eye off the ball. I was guilty of complacency, looking ahead to the next game and not giving Leichtenstein the respect it deserved. My mind was on Spain before the first game and I was paying the price. Thankfully Scotland would be a little more professional.
Game day had arrived and Craig Levein and his squad had done well to focus all attention on beating the so called minnows.
He admitted to me before the game that it was certainly a boost to see the Spanish sweep aside the Czechs the night before but said they absolutely had to focus on beating Liechtenstein and ignore the upcoming trip to face the world champions.
Of course they did and I interviewed a very relieved manager in the tunnel after the game. He was speaking as someone who knew that, actually, the hard work had been done.
They had to focus on winning in Vaduz because they were expected to. Few people expect an Alicante miracle and the other match is out of Scotland's hands so it could be argued that the pressure is off. 
Speaking to some foot soldiers of the Tartan Army outside the ground confirmed my suspicions.
They are going to Spain for a party, just glad to be travelling with some hope and hoping also to thaw out in the sunshine.
The short sleeves and summer shoes on show are clear evidence that I wasn't the only one to have taken Leichtenstein lightly.
Bring on the beach and bring on the world champions.