Spain diary - Monday
By Chris McLaughlin
BBC Scotland in La Manga
Last updated on .From the section Scotland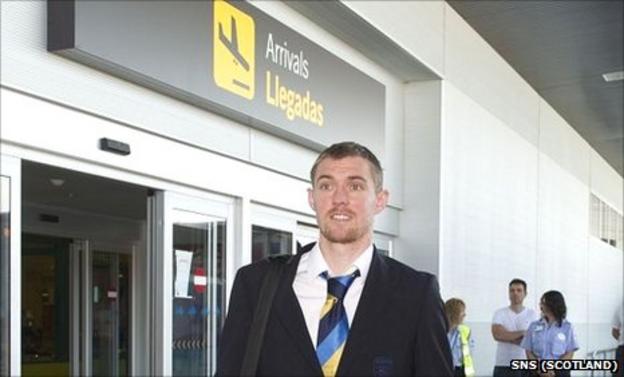 "On behalf of the Scottish Football Association we would like to welcome you on board this flight from Zurich to Murcia. First of all, congratulations on last night's result…"
Two simple sentences from the captain of the team flight, but they were lost on no one as they buckled up in Switzerland ready for stage two of this Euro 2012 qualifying double-header.
Having travelled on numerous football-related flights, it has become the norm in recent years that the on-board flight crew wish the team good luck on landing, but rarely mention the defeat when you get back on board.
It may sound cynical but I think I can count on one finger the amount of times I've boarded a happy team flight recently after a match on the road.
So with a win over Liechtenstein under their belts it was off to the south of Spain.
Everyone upbeat and everyone with a smile on their faces, . Life was good.
The plane landed with a bouncing bump in Murcia but once again it was the pilot who brought everyone back to earth with his words as opposed to his wings.
"Ladies and gentlemen, welcome to Murcia where the temperature outside is a very pleasant 26ºC and may I take this opportunity to wish you the very best of luck for Tuesday's match against Spain," he said.
And there it was.
In two days' time, the players on board the plane would have to face the world and European champions for a play-off place. The Liechtenstein win became a memory the instant the pilot finished his message.
And so, on to La Manga. I was here earlier in the year when Craig Levein gathered his young squad for a week's bonding session. He wanted them to gel on the golf course and by the poolside in preparation for the second part of the qualifying campaign.
The cold and the rain put paid to poolside partying but they managed a few rounds and the manager said it was thoroughly worthwhile.
It's amazing how different the place looks in the sunshine. I'm sure Craig Levein is thinking the same.
But how much has side changed? The pilot's message after the game on Tuesday should be interesting.