Spain Diary: Tuesday
By Chris McLaughlin
BBC Scotland in La Manga
Last updated on .From the section Scotland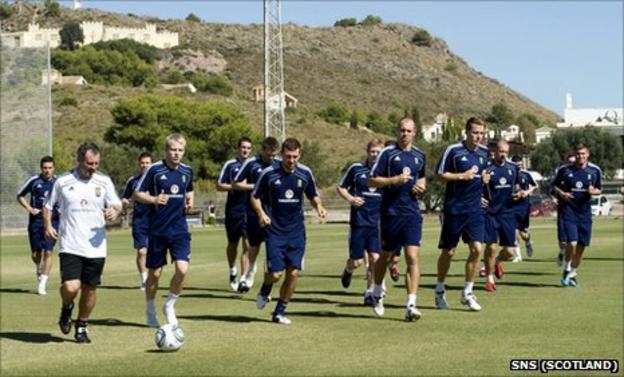 Scotland had an unexpected and very special spectator at training here in La Manga as they were put through their paces on the eve of the big one.      
As if the pressure of facing the world champions for a play-off place wasn't enough, how about your final training session taking place infront of Scotland's most capped footballer. Yes, Kenny Dalglish popped along from his holiday home here to see how the boys were shaping up. 
He wasn't for chatting to the media though. The Liverpool boss is a little camera shy these days. So much so that he gave a photographer a piece of his mind for training the lense in his direction. After seeing him snap at the snapper, I decided to keep my distance. 
To be fair to the the Anfield man, he kept his distance from the team. He might not be Mr Media but he certainly knows football and would have been aware that the circus surrounding Scotland ahead of this game is big enough without him getting too involved. 
It was comforting though to think about just how many if those he was watching were players he sees week in week out.
I counted eight premiership players including his very own Charlie Adam. Scotland seem to be edging closer and closer to qualifying for major competitions again. It's no coincidence that the English leagues are filling up with Scots at the same time.
We might not be world beaters yet but we're mixing with them. That's a start.
I write this as I prepare to head off for the stadium and Scotland's biggest game in years. Who knows, by the time I sit down to write my last double header diary , we might be world beaters after all.