Levein a better coach now, says predecessor Brown
Last updated on .From the section Scotland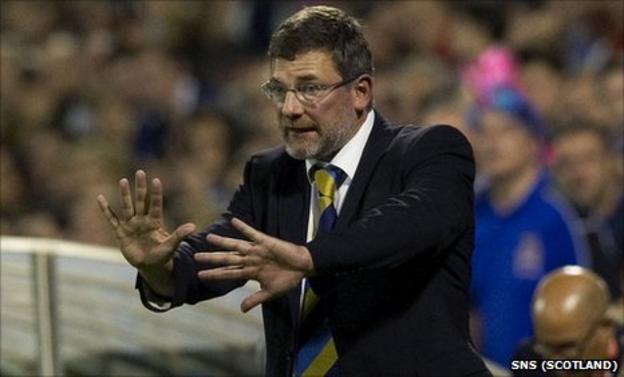 Former Scotland coach Craig Brown says current boss Craig Levein will be a better manager after the unsuccessful Euro 2012 qualifying campaign.
The Scots missed out on a play-off spot after a 3-1 defeat in Spain allowed Czech Republic, victors over Lithuania, to finish second in Group I.
BBC Scotland has learned Levein will not be relieved of his job and Brown said: "Craig's an intelligent guy.
"He'll benefit from that experience and the next one is the defining one."
Scotland's next competitive matches will be their opening World Cup qualification fixtures later this year.
Belgium, Croatia, Macedonia, Serbia and Wales are in Scotland's group and Brown believes that, while there are grounds for optimism, there is additional pressure to reach the 2014 finals in Brazil.
"We've got to qualify from this one," the Aberdeen manager told BBC Scotland. "They [the opposition teams] are all beatable, particularly at Hampden and I would expect Scotland to qualify this time and dearly hope that we do.
"We've invested a lot in football recently. We've got the new performance director Mark Wotte coming in with his ideas.
"Craig has a big staff and there's a government investment as well. It all means that we have to qualify to justify that investment.
"If we don't, I think it will be a bit more disastrous this time than in the previous occasions when we failed.
"You learn from the experiences that you get and Craig's now got good experience of a qualifying campaign.
"Friendly matches are all very well but it's when the chips are down and Scotland have to play in a competition for qualification that you learn more about your team and about your own tactics.
"When you look at the young boys, like James Morrison, Barry Bannan, Alan Hutton and Phil Bardsley, they're all maturing as players. There is experience as well in the group so I think we can look forward with great optimism."
Brown was the last man to lead Scotland to the finals of a major tournament and was involved with the coaching staff for a total of five finals appearances at European Championships and World Cups.
"The flagship of the nation in terms of football is the national team and I think everyone would agree that it helps everything in Scotland, not just football development, but the whole economy," he added.
"The whole mood of the nation is often reflected by the fact that the team's playing in a major tournament.
"The businesses in Scotland flourish, the whole country gets a major boost from participation in a tournament, whether it be the European Championships or the World Cup.
"We haven't had that for some time. It tends to make it very difficult also to develop the game because the kids are more anxious to wear the replica strips when they see their country playing in the finals of a big tournament."