Levein right man for Scotland, says SFA chief Stewart Regan
Last updated on .From the section Scotland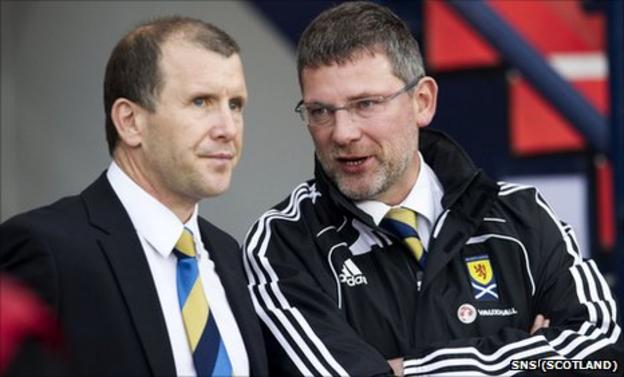 Scottish Football Association chief Stewart Regan says Craig Levein is "absolutely the right man" to lead Scotland into their next campaign.
And Regan feels it is "ridiculous" to question Levein's suitability for the role after not reaching Euro 2012.
"Craig is one of those managers that doesn't just focus on the A squad," the chief executive told BBC Scotland.
"He's looking right across the game and at what we need to do as a country to be successful in the future."
Scotland's Euro 2012 qualifying campaign ended with defeat by Spain, which allowed Czech Republic to finish above the Scots in Group I and thus reach the play-offs for next year's finals.
"Craig has brought an awful lot to the table; he's got the respect of the players and the coaches," Regan said.
"The second half of the campaign has been very encouraging.
"We've seen a lot of talented young players come into the squad; guys like Craig Mackail-Smith, Barry Bannan in particular, who've shone.
"Craig has brought so many good things to Scottish football and to the Scottish FA; his philosophy, his inter-personal skills, his approach with the players, his network of people that he's put around him are very, very impressive.
"I think he should be congratulated on what he's done to Scottish football, based on what he inherited a couple of years ago, which was a Scottish FA national set-up which was in disarray and he's had to put it together and start to build and I think he's done a great job in getting us to where we are.
"We've got a lot to take out of this campaign, a lot of positives to look forward to and, for me, I can't wait to get stuck into the Brazil 2014 campaign."
Regan insists having the national team meeting together more often is part of the new performance strategy, with Levein having been reported as saying a lack of preparation for the Euro 2012 qualifiers had harmed their chances.
"We know that we can't have overnight success, it takes time to put foundations in place, but we believe that we've seen a lot of encouraging signs and we're looking forward to building and developing success in the future," added Regan.
"We don't expect to be able to play like the Spanish and the Dutch overnight, but we've got a vision and a desire to encourage our players to think more and behave more like some of the Continental footballers. That's going to take time.
"We perhaps are guilty of short-termism and it's the same in business - you look for the next pound coming into the profit and loss account, you look for the most immediate opportunity.
"With football in Scotland, particularly after many, many years of deprivation and lack of success, we've scratched away the surface and, through Henry McLeish's report, have identified a number of things that we need to get right.
"We've started to address the governance issues with our re-structures of the board and the committees within the Scottish FA.
"We've started to address the performance strategy and focus and we're looking at key initiatives that we have to put in place to help us deliver success.
"Craig has been absolutely fundamental in helping put that strategy together."