Dejan Stankovic to retire and leave Serbia to rebuild
Last updated on .From the section Scotland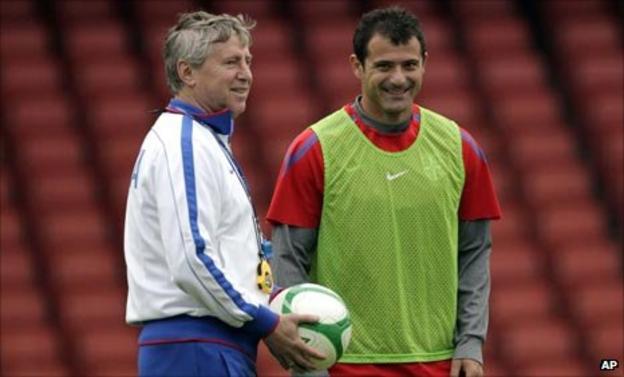 Serbia face rebuidling ahead of World Cup qualifiers against Scotland and Wales after talisman Dejan Stankovic announced his international retirement.
And Manchester United defender Nemanja Vidic also hinted that he is considering the same decision.
Captain and Inter Milan midfielder Stankovic is already 33, while Vidic is now 29.
The pair were talking after Serbia failed to qualify for the Euro 2012 finals, finishing third in Group C.
Tuesday's 1-0 defeat away to Balkan rivals Slovenia saw Estonia - who were not in action - claim the play-off spot in a group already won by Italy.
Coach Vladimir Petrovic, who took over from Radomir Antic after a 1-1 home draw with Slovenia early in the campaign, could follow Stankovic through the exit door after failing with a cagey and ineffective 4-5-1 formation.
Stankovic, who equalled Savo Milosevic's record of 102 international appearances, confirmed he would hang up his boots after the next friendly international, which will make him Serbia's most-capped player.
"This was my last competitive match for my country, I will play one more game and that will be my farewell to the national team," Stankovic told Belgrade media.
"Slovenia, who had only pride to play for, produced an outstanding performance while we had dropped points in places we shouldn't have before we came to what was always going to be a difficult away match in Maribor.
"It is a painful end because we had the quality to reach next year's finals in Poland and Ukraine and we really should have done better."
Vidic, who missed the chance to equalise from the penalty spot after Dare Vrsic's high cross deceived goalkeeper Bojan Jorgacevic to give Slovenia the lead in first-half stoppage time, thought it was a time for reflection.
"It is time to bring on younger players in the national side," said the defender with 56 caps.
"Some of the old-stagers should retire from the team."
Petrovic was frank when asked if he would step down from the side seeded 21st in the world.
"They don't need to sack me because my contract expires in two months' time and it's up to the FA whether they want to extend it," said the coach.
Of the six teams drawn in Europe's World Cup qualifying Group A, none have so far qualified for the Euro 2012 finals, with only Croatia still having a chance to make it via the play-offs.
The Croats, who are ranked ninth in the world, failed to top Group F despite a 2-0 win over Latvia after two late goals put Greece through following their 2-1 win in Georgia.
Belgium, who are ranked 34th, finished behind Germany and Turkey in Group A after losing 3-1 in Dusseldorf as the Turks edged out Azerbaijan 1-0.
Macedonia, now 94th in the world, finished fifth in Group B, ending their campaign with a 1-1 draw at home to Slovakia.
The Scots, presently 52nd in the world, missed out on finishing runners-up in Group I after losing 3-1 in Spain as the Czech Republic leaprogged them following a 4-1 demolition of Lithuania.
Wales, ranked 90, were fourth in Group G but ended on a high with back-to-back wins over Switzerland and Bulgaria.