Chick Young's view on the Scottish football soap opera

By Chick Young
BBC Scotland football pundit
Last updated on .From the section Scotland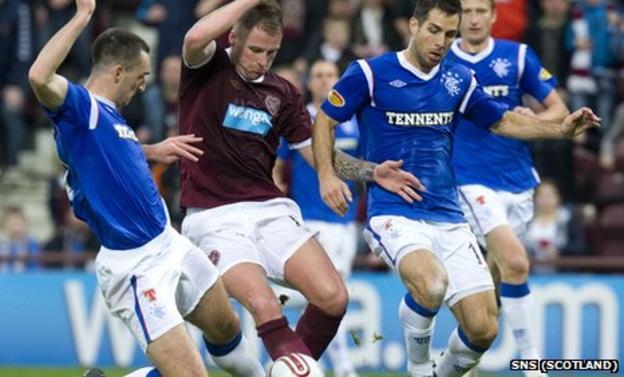 Rangers aren't talking to the BBC. I wonder if they are looking in.
It's just that I thought I would hurl some compliments their way.
The huff that envelopes Ibrox hasn't stopped Ally McCoist and his players stretching a lead at the top of the table which threatens to take them over the horizon.
Owner Craig Whyte can deploy all the spin doctors he wants, but the greatest PR of all is being churned out from the dressing room where McCoist and his merry men are blanking the headlines of financial stress and putting a glow of contentment around the boardroom that couldn't be matched by the mass shredding of BBC licences.
The new Rangers manager seemed to be allergic to cup games - Malmo, Maribor and Falkirk have induced headaches - but it was one of these reversals, in Slovenia, where he clearly learned how to Walter the opposition.
Remember how the old fox did it. Get a goal ahead and then bring the builders in to construct a wall round the six yard box.
That hot August night in the Ljudski Stadium Rangers went a goal in front and McCoist tried to have the tie done and dusted long before the return at Ibrox. But instead of scoring again they had to collect the ball twice from their own net.
The aforementioned Mr Smith would have recognised that the first leg is only a work in progress.
But clearly McCoist has learned quickly, a necessity when you inherit the steering wheel at the Old Firm, and recognised the need to lock the gates after going ahead. I refer you to Tynecastle on Sunday.
Talking of which, it was, for your old reporter, a surreal experience.
Rangers aren't talking to us. Hearts aren't talking to anyone.
So there I was at the mouth of the tunnel and they gave me a microphone. Given the circumstances, it was like giving Abu Hamza a pair of gloves.
It is indeed a bizarre wee soap opera in which we operate.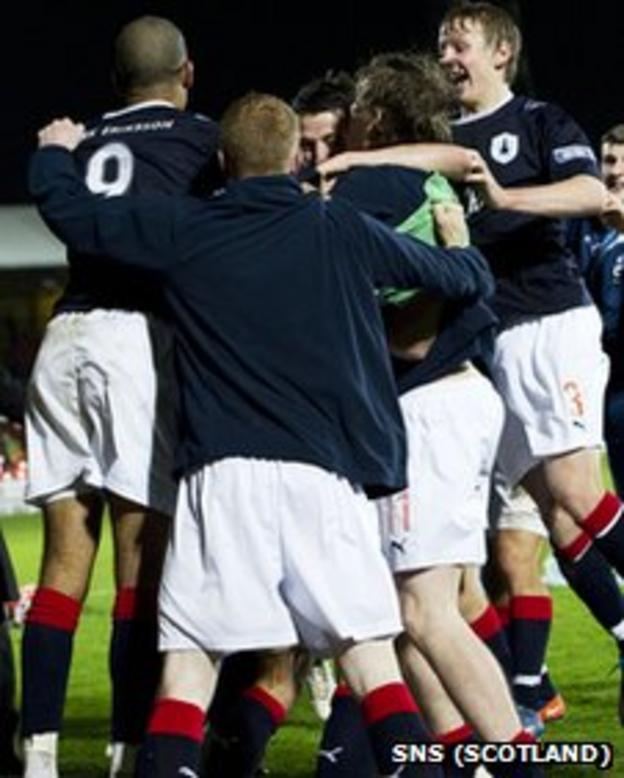 Hearts have joined Rangers in a vow of silence, their self-gagging order the result of a strop with the SFA about referee Ian Brines.
They didn't want their manager talking about Brines' decision to disallow the goal at Ayr that would have kept Hearts in the League Cup and the consequent decision by the SFA to make him fourth official at the club's next match, an appointment which I did think a bit flaky.
But could Paulo Sergio not just have talked football to us and the Hearts support and declined to discuss that particular seemingly burning issue?
What have we got here? A national sport or a school playground?
Everyone wants to talk about people not talking, but the Scottish Communities League Cup, which has been a brilliant watch, has been peppered with people not watching.
I've loved the tournament, its giant-killing and its high drama penalty shoot-outs and the fact that so many big names have tumbled that even this early in the season only two clubs - Celtic and Kilmarnock - can win the Treble.
And a standing ovation, if you please, for Falkirk with a youth policy so proficient it should be sponsored by Mothercare and Ayr United who, spookily, I have seen five times this season and never seen lose.
Lucky white heather? Interflora should deliver me to Somerset Park.
But the public haven't responded, maybe disillusioned by admission pricing or a disregard for a competition which is not rewarded with a European place.
And maybe it is a huge mistake not to pick up on the momentum and instead leave the semi-finals and final until well into the New Year when we will all have forgotten who the last four are.
So there we have it, Scottish football in a nutshell. Nobody's talking, listening or watching.