Craig Levein must keep Jordan Rhodes en route to Hampden

By Annie McGuire
BBC Sport Scotland
Last updated on .From the section Scotland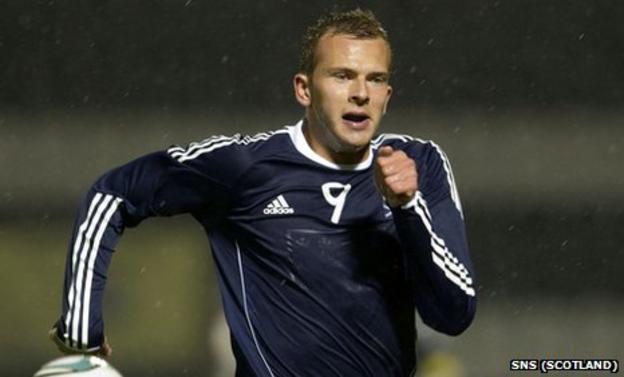 Cairneyhill Primary School's place in Scottish football history may not be immediately apparent, but Craig Levein's latest squad announcement means the village school could yet play a significant role in the game's future.
It was here that five-year-old Jordan Rhodes started school in 1995, briefly picked up a Fife accent before leaving in Primary 5 to return to his native England.
But - as he packed up his jotter for the last time, little did the 10-year-old son of Dunfermline goalkeeper Andy Rhodes know that he had done just enough to earn the right to play for Scotland, under rules to be introduced years later by football's governing body Fifa.
Despite his English lineage, five years of Scottish education means Scotland can select the striker, despite interest from south of the border.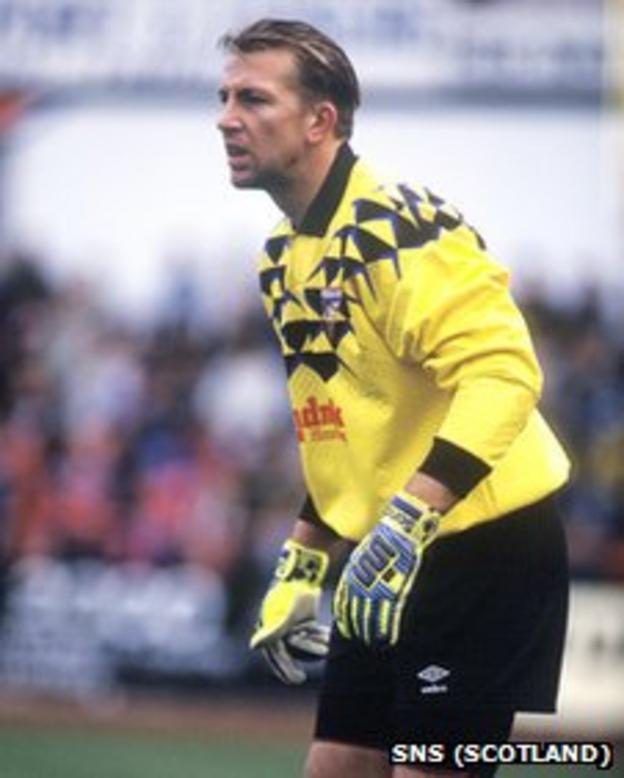 And it is easy to see where that interest has come from.
Already involved with Scotland at under-21 level, Rhodes has scored five goals in the last two games for Billy Stark's side in an overall run of 14 goals in six games, including sparkling form for club side Huddersfield.
His goal-scoring prowess is not new though. Signed by Ipswich from Barnsley for £5,000 at the age of 15, Rhodes scored over 40 goals in his first season with the club's academy. He was also called up to the England under-17s but pulled out through injury.
Even playing in Scotland's friendly against Cyprus in November won't end his chances of an England call up.
For that, Rhodes will have to pull on the dark blue in a competitive fixture - a commodity in short supply for Levein at the moment.
With World Cup qualifying 10 months away, the Scotland boss may face a nervous wait to see if he can fend off his English neighbours' advances. Levein, though, is clear on the quality of the player he's eager to secure.
"His record recently is phenomenal," Levein told BBC Scotland. "He has improved enormously over the last couple of years, he has some very instinctive finishes.
"He comes alive round about the penalty box but his game has improved an awful lot outside the penalty box in this last year or so."
Former Falkirk midfielder Scott Arfield sees that striking ability at close range, as the Scot is also a regular in Lee Clark's Huddersfield team, and he says Rhodes is terrorising League One defenders on a regular basis.
"His goal ratio really speaks for itself in recent weeks," Arfield said.
"He's a natural goalscorer with good pace, and definitely has the ability to use either foot.
"He's a joy to play with from a midfielder's perspective. It's a privilege to play with someone with that kind of ratio and I don't think there are many players who have played with a player of that calibre.
"There were rumours down here that Stuart Pearce and Fabio Capello [England assistant and head coach respectively] were keeping an eye on his progress and I think it only stands us in good stead that he's involved with Scotland. What we want to do is go to major tournaments and I think Jordan will be a major part of that success."
But while Rhodes will be picking up a Scotland jersey again in a couple weeks time, Arfield has no doubt that the Fife accent was left in the playground in Cairneyhill.
"He's definitely not Scottish in his accent. That's probably the least Scottish thing about him. He's very thick Yorkshire, but I don't think that will matter. If he puts the ball in the net, who cares."