Chick Young's view on Hearts

By Chick Young
BBC Scotland football pundit
Last updated on .From the section Scotland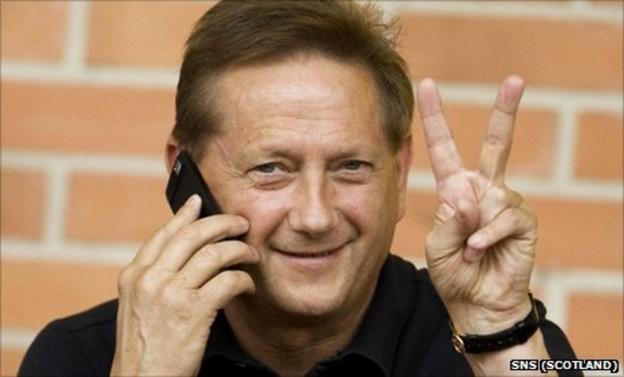 Isn't there supposed to be a kind of hush all over Tynecastle? Or did someone just forget to tell Vladimir Romanov?
The Gorgie Road sound of silence has been sledge-hammered by more declarations from the Hearts owner, who really should be handed a column by one of our tabloids.
You can't deny that he makes for a great read.
He has taken the baseball bat to his joint favourite targets: referees and the Scottish media - and he claims that the Fourth Estate is now "running, or should that be ruining, Scottish football."
Flattering on one account, but wrong on both.
Although, some of my predecessors might well have made a better fist of it than those of a blazered generation who dragged our game through the gutters.
And yet, Vlad can claim veritas in a few of his accusations, observing as he does that "there are practically no high quality players left" and that "Scottish clubs don't play in Europe and the national team doesn't get into the finals of international championships."
You don't say, Mr R.
Next thing you will be telling us that rivers flow to the sea.
Dear old Vlad - he used to make my blood boil, but I just can't take him seriously any more.
When I hear he has penned another rant, I get the same rush of anticipation that I used to get as a kid when the Dandy and Beano were dropped on the doormat.
His comic cut epistles are must read.
It's just that we might take them more seriously if he wrote them after squaring his wage bills.
Call us cynical, but there one or two of us who suspect that the Hearts huff - their refusal to talk to the media - was more to do with the fear of players chirping about not being paid than the run-in with referee Ian Brines and the Scottish Football Association.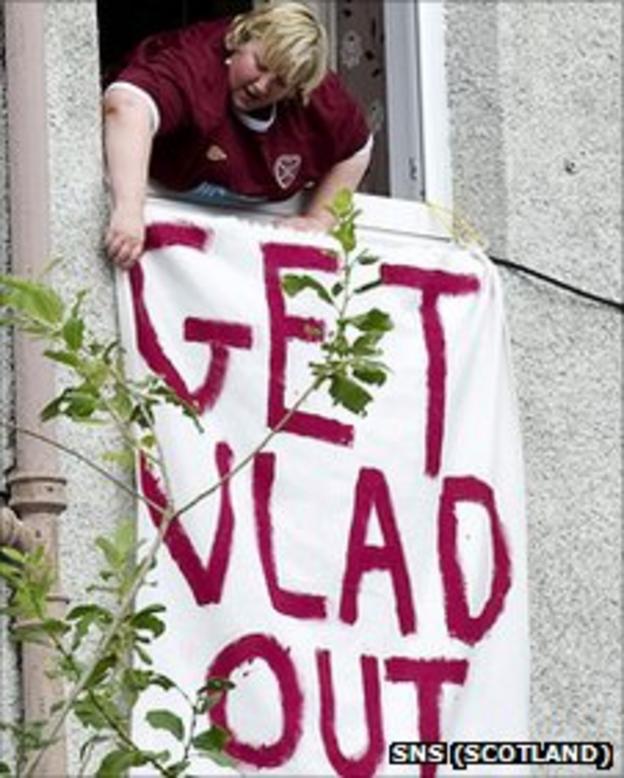 Oh the irony of Romanov's remarks, decrying the game as show business when he of course is its Simon Cowell.
And bless him for that, for being a chairman not scared to scream his opinion even if sometimes it does seem a little pickled.
As a character Romanov has been brilliant for Scottish football, and, despite his propensity for rocketing his managers into outer space on a regular basis, he strikes me as a nice wee man who is probably most content swimming the length of Loch Ness or recalling his days as a submariner.
The problem is, if and when he leaves Heart of Midlothian, to sink or swim.
As the headlines of financial distress hover over Rangers, whose debt was reduced to £18m by the time Craig Whyte took over, it seems to have slipped on to the back burner that the Gorgie club owe almost twice that, with a fraction of the turnover.
And that is all very well while Romanov and his bank embrace the club.
But I am a little concerned about the latter paragraphs of his latest communication which declares his reluctance to spend "millions to watch someone else's show."
I fear he might be of a mind to disengage with Scottish football and give all his affection to his first love of basketball, a sport for which they go stark raving bonkers in Lithuania.
Romanov declares that Scottish football currently ranks alongside that of Armenia, Panama and Burkina Faso - and one glimpse at the FIFA rankings will tell you that he sure ain't got that one wrong.
That ringing in your ears is alarm bells.
So what happens to Hearts - still the third biggest club in the land - if he walks?
Who, of sane mind and adequate financial muscle, would pick up that debt - the magnitude of which could hardly be cleared in a lifetime?
This is a point which will not have passed him by.
As Hearts wonder if it might be worthwhile extending the Edinburgh tramlines all the way to Mount Florida, such is the frequency of their staff being asked for a wee word at Hampden, and juggle with the stadium dilemma - the real truth is that nothing can be achieved without the club's Godfather.
The man who has just broken his own omerta...