Scotland coach Craig Levein welcomes poppy compromise
Last updated on .From the section Scotland
Coach Craig Levein has welcomed the decision to allow Scotland players to wear poppies on black armbands when they play Cyprus on Friday.
Scottish FA chief executive will take the poppies to Cyprus on Friday.
"My own grandfather died in the Second World War so from my point of view it's straightforward," said Levein.
"I'm not speaking for the SFA but personally I feel we should honour people that died during war."
The visiting support in Larnaca will be supplemented by British troops stationed in Cyprus, with many of those having served or due to serve in Afghanistan.
"They are just incredibly brave people and I wish I had the same courage. They do a fantastic job," Levein said.
"Obviously my own history very much aligns me to be grateful to the people that have served their country."
Scotland captain Darren Fletcher added: "I think the poppies on armbands - a small gesture like that from the Scotland team - means a lot.
"It shows we are respectful to the heroes who have lost their lives for our country.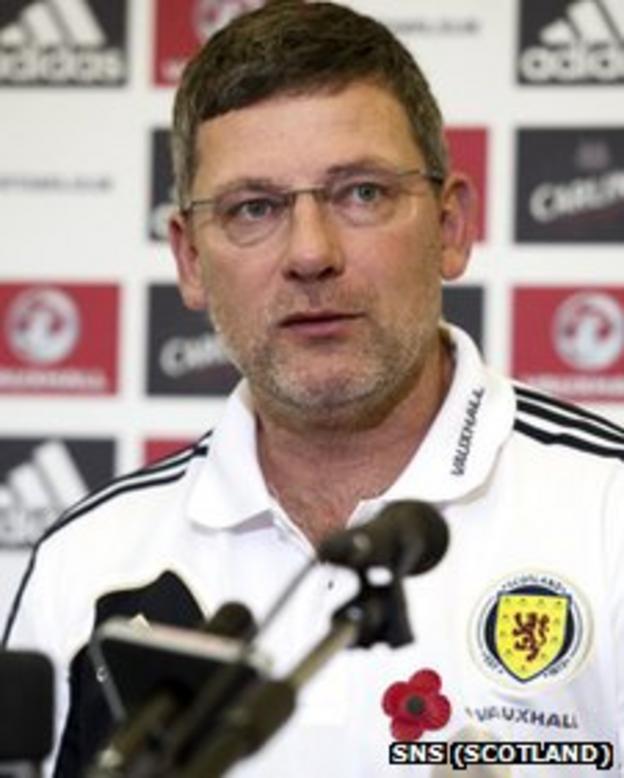 "I know a few military are going to be coming to the game. I know some of the players have made their complimentary tickets available, which will be good as well.
"To come and watch us will hopefully bring a smile to their faces and it's a little bit of a thank you for what they are doing for us right now.
"I would just reiterate how proud we are of them and how much it means that they are out there fighting for us, for our country."
The SFA sought permission from their Cypriot counterparts for Scotland players to wear the armbands while player training and backroom staff kits will also feature poppies.
Fifa had blocked England's plan to wear poppies on shirts but softened its stance after Royal and governmental intervention.
Prince William and Prime Minister David Cameron urged Fifa to reconsider its opposition to poppies and Regan praised the compromise as a "pragmatic solution".
"Prior to their departure for Cyprus, the Scottish FA made plans for the Scotland national yeam players to mark Armistice Day by wearing poppies on their anthem jackets before the match," said Regan on Thursday.
"We have kept track of the ongoing debate between the FA and Fifa this week. The decision to allow players to wear black armbands featuring poppies during the match is a pragmatic solution to the fact that Fifa's rules forbid the wearing of the poppy on the match shirt.
"Subject to the approval of the Cypriot FA as the host nation we will also adopt this approach in our friendly match on Friday night.
"We believe this is a fitting way to show our respect for those members of the armed forces who have lost their lives fighting for their country."