Craig Levein explains Scots' poppy armband problem
Last updated on .From the section Scotland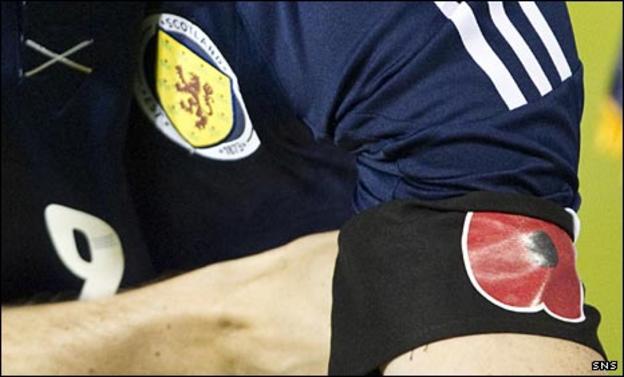 Scotland players discarded their poppy armbands during their 2-1 win over Cyprus, but coach Craig Levein says it was simply down to equipment failure.
British sides were allowed to display the armbands following a week of controversial negotiations with world football's governing body Fifa.
"They had a problem with the Velcro attachment," explained Levein.
"And they spent a lot of time trying to get them fixed, but a lot of them didn't actually hold together well."
Fifa allowed the home nations to sport the special armbands after blocking plans for England to wear poppies on shirts in their friendly against Spain.
The Scots had already had plans to wear poppies on their tracksuits and in the dugout and Levein, who pointed out ahead of the game that his grandfather died in the Second World War, was keen to stress that no offence was intended.
"I just want to explain that to people," he said of the Velcro problem.
"They weren't taking the armbands off for any other reason than they wouldn't stay on.
"We were proud to wear the armbands tonight as you might well imagine."