Mark Ridgers ready to take Scotland Under-21 place
Last updated on .From the section Scotland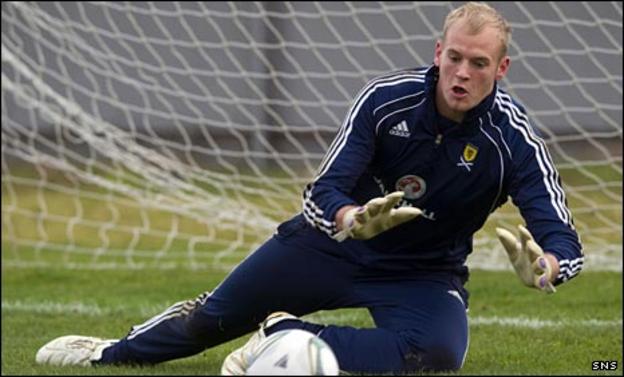 Mark Ridgers is determined to prove he has what it takes to be the first choice goalkeeper for Scotland Under-21s after Grant Adam was dropped.
Ridgers looks set to start in Monday's European Championship qualifier in the Netherlands and is keen to take advantage of Adam's omission.
Adam withdrew from the squad this week after pleading not guilty to an alleged sectarian breach of the peace.
"It's not my problem, it's not an issue for me," said Ridgers.
"I just have to keep focusing on what I've been doing.
"I'm playing every week for East Fife and hopefully I'm putting that across to Billy and saying 'I'm here and I want to play'. It doesn't really affect me."
Adam - Rangers' third-choice goalkeeper and younger brother of Liverpool and Scotland midfielder Charlie - has played in all three qualifiers so far.
But Ridgers has been playing first-team football while on loan to the Second Division Fifers from Hearts and looks likely to get his chance with Billy Stark's side.
"I've been around a few squads," he said. "It's an opportunity for me and, if I get selected, I hope to do well and cement my place as number one.
"When you're a goalkeeper, you know there is only one position to play. As much as you get on with the people in your position, at the end of the day, you are both trying to get the same spot.
"I want to play for Scotland and Grant wants to play for Scotland, so it's an opportunity for me if I'm selected on Monday night to go out there and prove to Billy that I can be the number one if he has a bit of faith in me."
Ridgers is relishing the challenge of facing a side who have a 100% record in the group.
"I think it's a good thing because these are the type of games you want to play in," he said.
"If I want to further my football career, I want to play at the highest level against the highest opponent. It's an opportunity for me to showcase what I can do."
Starks admits fears over whether Adam would be in the right frame of mind for the game resulted in the player's withdrawal from the squad.
"Awkward is the way to describe it," he said. "It is the modern world.
"You go through squads in different countries and I'm sure the same thing applies, boys get into scrapes now. And you can't comment because none of us were there.
"They get into scrapes because their profile is much higher than it used to be. There are camera phones, websites, twitter and all that stuff.
"Even if you don't do it, someone will make something up and you have to react to it.
"So I am really quite relaxed in how you deal with it. But I am fed up about the platforms there are to make up rumours about players and all the rest of it.
"I know Grant's situation has occurred, but he has pled not guilty and it has always been the case that people are innocent until proven guilty.
"So, as far as I am concerned, he was available and I made it from a football decision that he couldn't have been right."