Chick Young's view on Scottish wingers

By Chick Young
BBC Scotland football pundit
Last updated on .From the section Scotland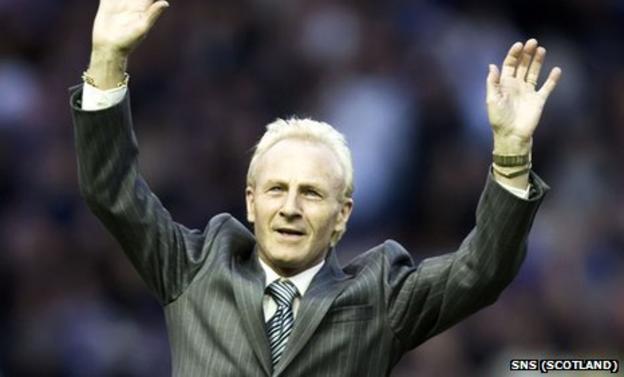 In a previous life - in a gentler time when I earned my crust as a football writer on an evening newspaper - I used to take the occasional call from the Rangers and Scotland legend that is Davie Wilson.
The blond bombshell was never short on self-confidence.
"All right, son?" he would say. "The world's greatest left winger here."
"Oh hi, pal," I used to reply. "How are you, George?"
Wee Davie wasn't Georgie Best, but then nobody else was either. It certainly didn't make him a bad player. He was far from that.
Wilson was one of a golden generation of the craft of wing play in the days when we churned out wee men who could hug a touchline and tie a full-back's legs in knots with a shimmy and the dip of the shoulders.
He also contributed a ridiculously high proportion of goals per appearance.
Wilson was also, as it happens, credited by Celtic fans with having another remarkable ability - that of being tripped in the centre circle and landing in the penalty box. But I digress.
On the other wing at Rangers at the time were, first, Alex Scott and then Willie Henderson, but everywhere you looked there were wee blokes ripping the knitting out of defenders.
Jimmy Johnstone at Celtic, Alex Edwards at Dunfermline, Peter Marinello at Hibs and - back at Ibrox - Willie Johnston.
But, somewhere down the road, the production line ceased.
Players couldn't cross anything without the help of a lollipop lady. Our wingers were grounded.
However, hold that result - there is news just in.
Scotland's Under-21 team tormented the Netherlands - the mighty, arrogant, swaggering mob from across the North Sea - with a rampant victory that thunders them back into competition for qualification for the European finals. Wonderful.
And they deployed two wingers in the game plan, James Forrest of Celtic and Gregg Wylde of Rangers. It was just like old times - a light in the darkest of days for our international set-up.
Wylde and Forrest on the flanks, young Jordan - the Rhodes to goal - through the middle.
Is Craig Levein already stroking that beard in the style of a wise old wizard having just stumbled on a cunning concoction that might fuel us all the way to Brazil?
The win in Cyprus was no consolation at all for failing to make the play-offs in the race to Ukraine and Poland, but at least the trip didn't backfire with a defeat.
However, Scotland winning in Holland? Now that fair warmed the cockles.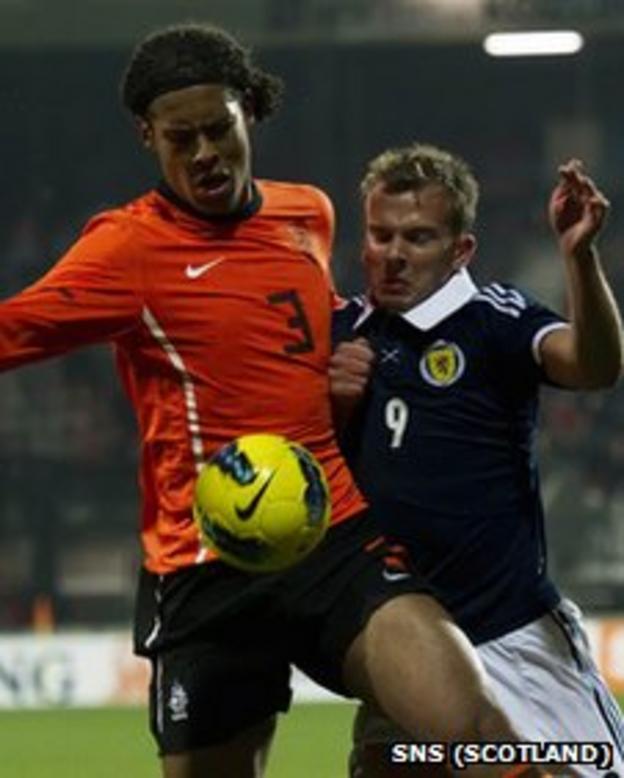 It is good, is it not, to be getting the ball out of the cupboard again?
I am up to here with political debate over poppies (and why didn't the Scottish team stitch the flowers to the strip and hell mend Fifa's ridiculous charter?) and chants of a bigoted nature.
None of that was handled very well.
Celtic stopped a player at a press conference answering questions about the allegations that surround singing at the Rennes Europa League tie and the Hibs game.
Wouldn't it have been good to have Garry Hooper urge the lunatics who sing the praise of terrorist organisations to shut up?
Or, alternatively, don't put the player in that position in the first place.
Personally, I give them more credit. We are, after all, not shy at asking them to hold up Show Racism the Red Card posters.
I assume they are not just walking billboards but thinking men.
Celtic have condemned these people who do the singing but should repeat the message - and player-power is not to be underestimated.
But, for once, I refuse to let this column become entangled in the affairs of chairmen of the board, both egotistical and eccentric, nor the dark world of club finances.
A Scottish team has left these shores and returned with a victory that really matters and which is genuinely impressive. Bless our young princes.
It is 46 years now since wee Davie Wilson, not quite the world's greatest left winger, last pulled on a dark blue jersey - in which, incidentally, he scored 10 goals in 22 appearances - but he is as proud of the kids as the rest of us. By George he is!