Chick Young's view on Aberdeen's plight

By Chick Young
BBC Scotland football pundit
Last updated on .From the section Scotland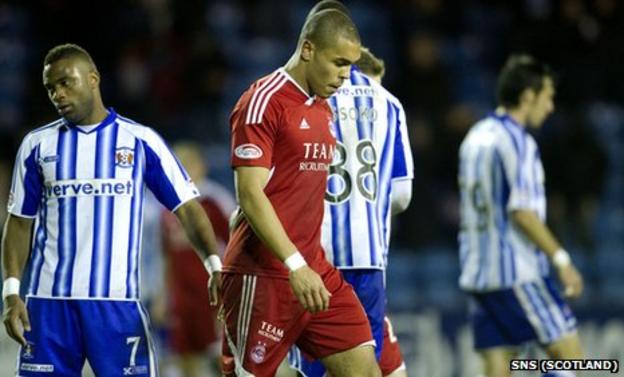 Rangers have released a CD of Christmas songs, tweaked to an Ibrox theme. The Christmas Bouncy and Silent Night, Rangers Night are among the classics.
Sadly, they haven't gone as far as Away in a Ranger and I'm Dreaming of a Craig Whyte Christmas, but at least someone at the club has, A) retained a sense of humour or B) realised how desperate the current financial mess really is.
In which case watch out for the fifty greatest court cases DVD coming out soon.
Of course crimes against music don't count in Scottish football. Just cock an ear to most grandstand anthems and you will just catch my drift.
Still, no need for the bah, humbug routine from your old reporter. If a wee bit of music makes someone happy this festive time then empty your lungs.
Frankly though the New York Philharmonic, Sinatra, Streisand and old Bing himself couldn't cheer up Aberdeen fans this mid-winter. Although they could attempt a chorus of Things Can Only Get Better…
Weather-wise it's colder than a penguin's nose at Pittodrie, but there is an increasing chill between fans and the club - board, management and players - who have navigated a route to the bottom of the SPL.
How could it have come to this? How could the Dons, once so dandy, have become the division's laughing stock?
Craig Brown and Archie Knox have been managing since Moses was in a basket. How can all that experience not be working? The Dons took Jack and Victor. Would they have fared better with Isa?
I can't buy into the theory that Scottish football cannot afford to lose Aberdeen from its top division.
If they go down, Hell mend them. That's how league tables work and why should other clubs, who have made more prudent signings and worked their passage, suffer instead?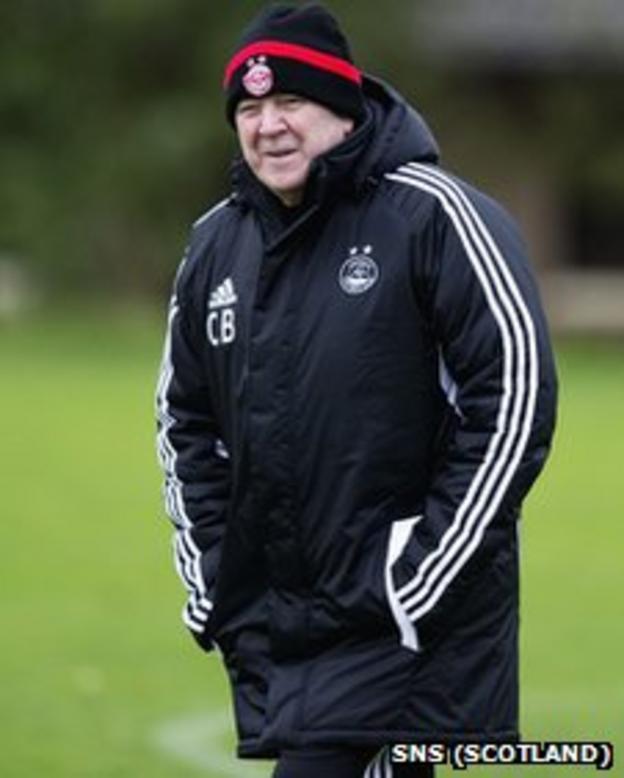 If Aberdeen don't deserve to go down, does that mean St Johnstone - fighting away above their weight - don't deserve to be in contention for a European place? It's sport for heaven's sake. It's about the bounce of the ball, not about columns of profit and loss nor history.
When the Pittodrie board wooed Brown and Knox from Motherwell they bought experiences in skip-loads and applied that normally safe cure to the damage done in the Mark McGhee tour of duty.
But their prognosis was wrong. Or at least, so far the medicine has proven to be so. The anchor chain holding the Dons steadfastly to the bottom won't break.
Call them excuses or call them reasons, but wee Broon has plenty of them to explain why Aberdeen cannot progress. It's just that they aren't washing any longer. His statistics don't seem, somehow, quite as vital.
On occasion unlucky, but there is no denying that at times - against Hibs at Easter Road and St Mirren at Paisley - they have been dreadful, although in fairness in the case of the fixture in Leith the home team were hardly Real Madrid either.
And yet Aberdeen are far from marooned.
St Mirren for example, praised to the heavens for their start to the season, are still well within lasso range, and while there will be no Champions' League adventure for the club next season I still cannot conceive that come May the vultures will gather while the remains of a dwindling support will be checking train times to Dumfries and Ayr.
Meanwhile, why not try what Rangers have done and publish that Chrissy CD? Suggestions include Abide with Me, It's My Party and I'll Cry If I Want To and Help.