Chick Young's view on the wage row at Hearts

By Chick Young
BBC Scotland football pundit
Last updated on .From the section Scotland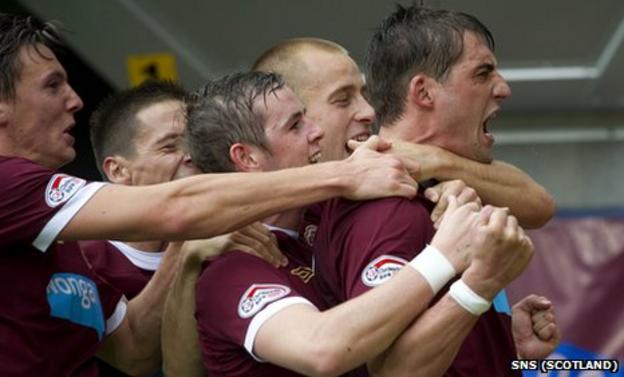 There's no such thing as a free lunch. The devilishly cunning Paul McBride QC's offer to represent the Hearts players in their wages fight against Vladimir Romanov for zilch will surely ultimately bring its own pay day.
Not many lawyers are good at impersonating Robin Hood, but you can't help but wish McBride bon voyage on this search for justice. Romanov, the Sheriff of Nottingham, be afraid. Be very afraid.
When Romanov arrived from Lithuania he warmed the souls of the Hearts support, but it turned out to be an icy Baltic blast that now swirls around the Tynecastle rafters.
You cannot dishonour contracts and expect to gaily whistle on: the Heart of Midlothian players and indeed management - and I would like to once again apologise to Gary Locke for suggesting on BBC Radio Scotland on Saturday that he WAS being paid - are victims of, well, robbery actually.
Ian Black, I understand, is helping out a mate with some painting and decorating work. Never shy at giving it him tight for his propensity to upset match officials, I actually feel a little guilty at a cheap jibe.
But he well will know the red and yellow paint when he is asked for it.
Poor Hearts. From the moment Romanov walked in they were always a thundering locomotive out of control. No buffers in the world can stop them now.
The only way out of this - after the sell, sell, sell fever of the January sales - is for Romanov to take a financial bullet.
No-one of sane mind is going to pay £50m for the club. Not until inflation is running so high that it's fifty quid for a pint.
He walks away and a group of businessmen rent back Tynecastle at a rate of say, £1m a year, paying him back maybe £20m over the next two decades. Otherwise the club shrinks like badly washed cotton and this country loses one of its major movers and shakers.
It has not been a good week.
Darren Fletcher, captain of Scotland and quite one of the most well-adjusted professional players I have ever met, has been forced to admit to a career threatening disease.
Life is seldom fair. Fletcher is a gem of a human being, down to earth and utterly committed to the cause of the Scotland national team. He wouldn't dodge a friendly if it were against Tierra del Fuego at three o'clock on a Saturday morning on a cow patch at the bottom of the world.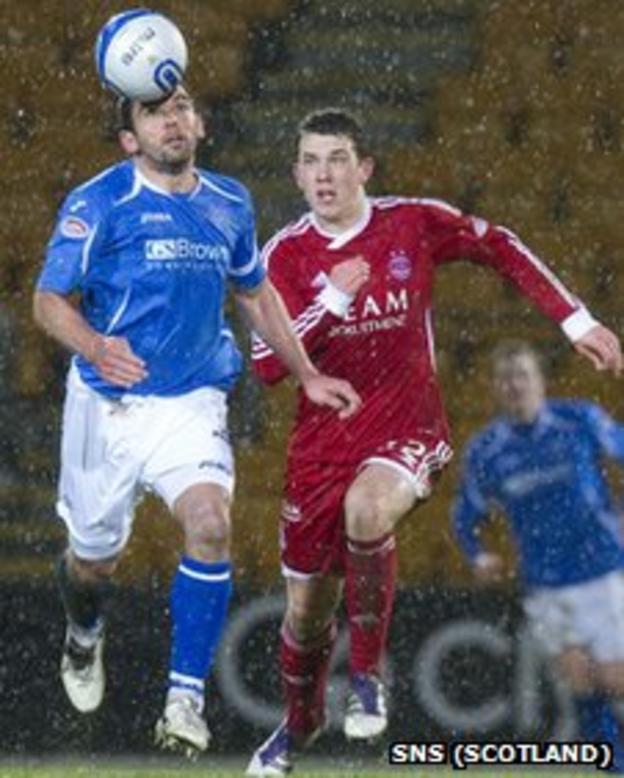 I spent an evening and a morning with him at the start of the season when he talked about the illness which had plagued the previous term and had seen him lose a stone.
I would party at the thought of ditching 14lbs: taking that weight off Darren was like mugging a beggar.
He thought it was a viral problem, now identified as a rare bowel condition, but a damnation on a wonderful career in its prime. Good luck to the man.
And then on Tuesday night in Perth the weather was such that high at the back of the McDiarmid Park stand we understood how oil men feel out there in the North Sea on their rigs as the rain batters in and the storm threatens to sweep them off.
You couldn't play football in this. You might as well try on the lunar landscape.
But they did. And St Johnstone and Aberdeen produced - in front of an attendance that could have been accommodated in a bus shelter - a game of such quality it could have been the calmest of summer nights.
And Aberdeen won with style, a phrase some might think had been lost from the English language.
Except their manager, Craig Brown, who had previously talked them up when they had played miserably, savaged them for performance. They have a logic, football coaches, that sometimes is as understandable to me as the conjugation of Kurdish verbs.
But the biggest damage was done to those of us who blow the bugle for summer football. If you can play in the eye of a gale force ten, you can play anywhere.
Don't abandon the oil rigs yet, lads… that will be next for the SPL.