Chick Young's view on the Old Firm's fortunes in 2012

By Chick Young
BBC Scotland football pundit
Last updated on .From the section Scotland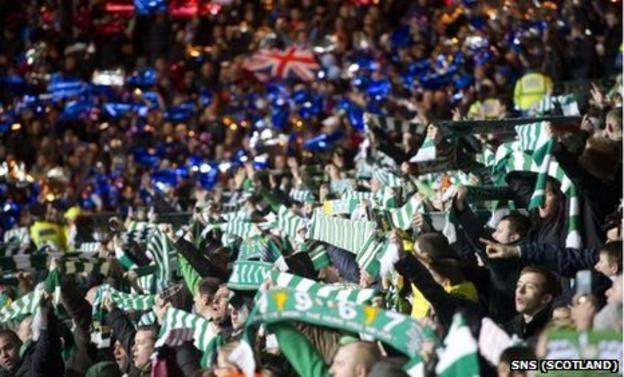 The old year is breathing its last: the question is, are so too Rangers' title ambitions?
Celtic gave the champions a handicap start, at one point in early November 15 points in length, and yet within two months the distance had shrunk as surely as the Ibrox club were dragging a low loader while Neil Lennon's men were in a fleet of Ferraris.
Before a ball was kicked I was adamant that Celtic had the swagger of potential champions and even as they were dropping points like autumn leaves as the first cough of winter approached, I can't say I wavered at all.
In truth I wouldn't faint now if Neil Lennon went on to secure the Treble, a rather awful state of affairs for Rangers who are already heading into 2012 like a lone swimmer into shark infested waters.
Tax men and court cases await. And a transfer window which threatens to create such a draught it will blow away Nikica Jelavic and maybe others.
There is no chance of Rangers coming out of January in a stronger state in terms of personnel: there is the near certainty that Celtic will this time not fail to embrace the opportunity to invest.
A short while back Celtic were a dot in the Ibrox rear view mirror: by Easter they may need a pair of binoculars to catch sight of them.
Already there are vultures in the air, Rangers supporters who want Ally McCoist off the premises, among them probably, the crazed fan whose infamous sound bite "P45 time, Walter" was recorded in the season yer man Smith took the club to the final of the UEFA Cup.
It is a ridiculous suggestion.
When it comes to patience Old Firm fans make Blackburn's supporters look like saints.
I've got stuff that's been in the freezer longer than McCoist has been in the job, and of course there will be Celtic fans who will be coughing nervously about suggestions that they once wanted Neil Lennon hunted because of his lack of experience.
As a manager he has not been flawless. You will recall that Europe and the League Cup are distant memories for Rangers even if the leadership of the SPL is a little more of a recent one.
And there have been some curious signings, players who are misfits of Lilliputian proportions. Bedoya, McKay and Ortiz have hardly been arsonists when it comes to setting the place on fire.
And Davie Weir. I have heard a whisper is that he is on one weekly payment if he plays, half of that if he doesn't. But as you know, there is a little local difficultly twixt the Rangers hierarchy and the BBC at the moment in terms of, well, communication.
Actually the truth about McCoist is that he has done sterling - a touchy word round Ibrox these days, I do apologise - work in divorcing the machinations of the boardroom from the activities of the dressing room.
No-one said it was going to be easy for Craig Whyte, but for all his employment of spin doctors the real public relations operation has been done by the manager and his players who have persuaded fans, by the results, to turn a blind eye and whistle a happy tune at the prospect of the gathering storm.
Or at least until the trip to Parkhead that is.
The manager has handled it with great sang-froid. The support and the board would do well to acknowledge the fact. Maybe they could note it at the next board or annual general meeting although I am not quite sure when either is scheduled.
So all the best then, Rangers, Celtic and the rest of you for 2012, a year in which we will stack the fridge with beer and yet again adopt a team to watch in a major finals. And wonder at what Team GB might do to any chance of Scotland ever competing in another.
Brighter days coming for Scottish football? I'm not sure. But I guarantee this for the New Year.
There won't ever, in our wee world, be a dull moment.