Scotland boss Craig Levein hopes for Darren Fletcher return
Last updated on .From the section Scotland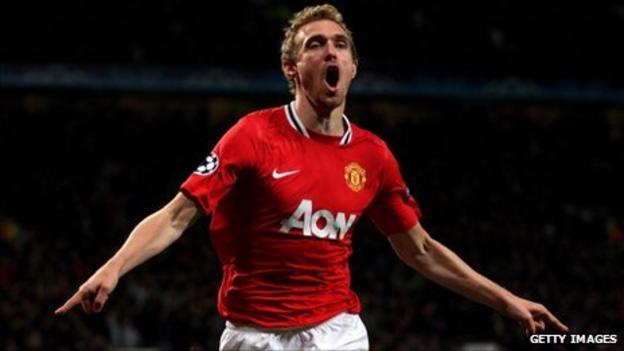 Scotland boss Craig Levein has not given up hope of having captain Darren Fletcher available for the start of 2014 World Cup qualifying in September.
"He's out for four months' complete rest, and then we can reassess things," Levein told BBC Scotland's Sportscene.
"I'd be desperately hoping [to have him for the qualifiers]. He's a huge loss."
Scotland begin their campaign to reach the World Cup in Brazil with a double-header against Serbia and Macedonia in Glasgow.
When Fletcher announced in December that he was facing an "extended" spell away from the game, there were immediate doubts over his ability to help his national team.
The news also sparked fears for the player's career, but Levein has raised the possibility that, with proper rest, Fletcher could return to fitness in time to lead his country later in the year.
"He's had this for nearly four years now," Levein said. "He's been pushing himself and he's really suffering it this time.
"It's just quite remarkable how he's managed [to play with the condition].
"He desperately wants to play every single match - probably to the detriment of his health.
"He's just a fantastic example of fortitude and desire to his team-mates."
"He becomes such an important player for us, not just on the field, but as an example by the way he behaves himself off the park and his attitude.
"Him being out is a huge loss in terms of both his performances and the influence he has on the rest of the group."
Levein also admitted he would ideally like to have another Fletcher - Steven - involved with the squad.
But he says he is no closer to a resolution with the Wolves striker over his return to the international fold, since the player indicated that he did not want to be part of the squad last February.
Despite Fletcher's form in England's Premier League - he has scored eight goals this season - Levein reiterated that he will not make the first move to persuade the 24-year-old to play again for his country.
"As soon as he indicates to me he wants to play for Scotland then I'll consider him. It's as simple as that," said Levein.
"The rules are there for everybody. It might be that he doesn't want to play for me. I don't know because I haven't had a conversation with him.
"All the correspondence I've had with him is that he doesn't want to play for Scotland, so until he tells me otherwise that's all I'm assuming, and until he indicates he want sto play for Scotland then things will stay as they are."