Rangers in administration - 10 questions
By Stevie Miller
BBC Scotland
Last updated on .From the section Scotland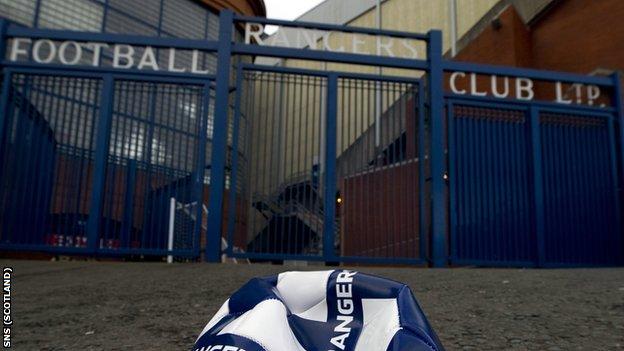 As Scotland's current champions enter administration, several questions have arisen - with many left baffled by the complex financial proceedings.
Here, we'll try and answer some of those questions, and you can let us know if you have any others by sending your suggestions to sportsound@bbc.co.uk and putting "Rangers questions" in the message field.
1) What is the difference between a secured and an unsecured creditor?
A secured creditor has a first claim on the assets. This is usually the device used by a bank to secure itself against default, as in any home loan, and Craig Whyte took over this secured debt from Bank of Scotland. The unsecured creditors have no claim on specific assets. They have to wait until the secured debt is handled, and then seek a share of what remains.
2) What happens to the money owed by Rangers to other clubs?
Some other SPL clubs are owed money by Rangers relating to either gate money or transfer fees. The creditor clubs will be contacted by the administrators who then try to reach agreement over the unpaid sums. If the two sides can't reach agreement over payment, then the clubs could raise a complaint with the Scottish Football Association.
3) Can Craig Whyte still make decisions at Rangers?
He should not be able to. The administrator is in control. He may, however, be able to influence the administrator, as he is the secured creditor, and so the administrator is bound to be speaking to him. He's also the majority shareholder, though, as such, he takes a lower priority than creditors.
4) Are injured players more at risk of being let go than fit ones?
While there is no principle that injured players would be at the forefront of players to be released, the administrators will look on players who are able to play as assets and a lengthy injury won't help a player's case.
5) What happens to on-loan players?
The administrators will be looking to cut costs, and a quick way of doing so would be to terminate the loan agreements of players on loan at Rangers from other clubs - so we can expect Kyle Bartley to return to Arsenal.
The position of Rangers players on loan at other clubs - such as Kyle Hutton at Dunfermline or John Fleck at Blackpool is less clear. If the wages are being paid by the loan club then the administrators may well allow the players to remain on loan. However, if Rangers are paying some, or all, of the player's salary, then the administrators could either continue with the loan, on the premise that they are, at least, offsetting some of that player's salary, or more drastically, end the loan and release the player.
6) Would a 'new' Rangers have to change their badge?
The only rule on this point as far as the SFA are concerned is that any club seeking to join the association cannot use the badge of an existing member.
A 'new' Rangers would need to apply for the vacant membership of both the Scottish FA and the SPL. Use of the badge would depend on who owns the rights and would be something for the new club to reach agreement on.
7) Are Rangers at risk of missing out on European football next season?
Clubs wishing to compete in Europe have to apply for a licence showing they have fulfilled certain criteria. Being in administration does not prevent a club from applying for the licence, but a club in administration would face difficulties in being granted the licence.
For example, one criteria that clubs must meet is to demonstrate by 31 March that they have no overdue payables to employees or tax authorities.
If a club goes into liquidation and a 'new' club emerges, the 'new' club would not be able to play in Europe for three years as all clubs must be a member of their national association for at least three years to gain the relevant club licence.
8) Do Rangers have to pay football bills first?
This has been a source of legal dispute, and the most recent ruling suggests football bills may take precedence over other costs. One of the football bills is player pay, and employees of a company in administration should, anyway, be the first to be paid - so long as they remain employed, of course.
9) Would a 'new' Rangers be able to claim all the trophies won by the 'old' Rangers?
Yes. No. Possibly. Actually, this would be uncharted territory for Scottish football, and it's unclear whether fans of a 'new' Rangers would be able to officially claim the bragging rights that go with the 'old' club's successes.
In terms of the physical trophies which currently sit in the Ibrox trophy room, these would be classed as assets of the old club, and would therefore become the responsibility of the company which handled the liquidation process.
10) Why have Rangers been fined 10 points for entering administration, when Dundee were fined 25pts and Livingston were relegated to the Third Division?
Football penalties are decided by the relevant governing body, in the case of Rangers, the Scottish Premier League. The SPL rules state that a club entering administration are subject to a ten-point penalty on the appointment of an administrator. Dundee and Livingston both entered administration while in the Scottish Football League, which has no set penalty for entering administration.