Viola alert for Rangers
By Giancarlo Rinaldi
South Scotland reporter, BBC Scotland news website
Last updated on .From the section Scotland
The denial can usually be counted in days, weeks or even months.
But, when a football club finally hits a financial wall, it is rarely a genuine surprise to the supporters who hold it dear.
That was certainly the case when the team I've followed since childhood - Fiorentina - became the pin-up boys for economic disaster.
We had all, if we were honest, seen it coming from a long way off.
Events at Rangers this week have sometimes had echoes of that time almost a decade ago when the Viola, probably the world's most famous team in purple, nearly ceased to exist.
It was the summer of 2002 when matters came to a head for Tuscany's finest but trouble had been brewing for some time before that.
The sale of club icon Gabriel Batistuta to Roma to raise funds two years earlier had hinted that all was not well. It both weakened the squad and the faith in the owner, film producer Vittorio Cecchi Gori.
"Supermarket Fiorentina" trumpeted La Gazzetta dello Sport as the club was forced to flog off more of its crown jewels to try to keep afloat in 2001. Manuel Rui Costa, Francesco Toldo and Tomas Repka were among those to leave.
In much the same manner, the reigning Scottish champions have been forced to sell their prize assets of late - and might well find more leave in future.
Throughout their final season in Serie A before complete meltdown, there was rarely a week went by when there was not some story of financial problems in Florence. There is little doubt it affected player morale and the performances on the pitch suffered.
In frittering away an enormous lead at the top of the SPL, it would be hard not to see some parallels at Ibrox.
Shorn of its best players, the club limped through a season where relegation quickly went from being a possibility to a probability. An injury to one of their last big names - striker Enrico Chiesa - all but sealed their fate.
Worse was to follow as in June 2002 the club went into administration and was, under Italian football regulations at the time, refused admittance to Serie B - Italy's second division.
Instead, they had to reform under a new name - Fiorentina Viola - in the fourth tier of football, Serie C2. Playing against often little more than village sides around Tuscany, it was a humiliating time for the club.
It would be the equivalent of Rangers finding themselves in the Scottish Third Division and playing Annan Athletic or Elgin City every week.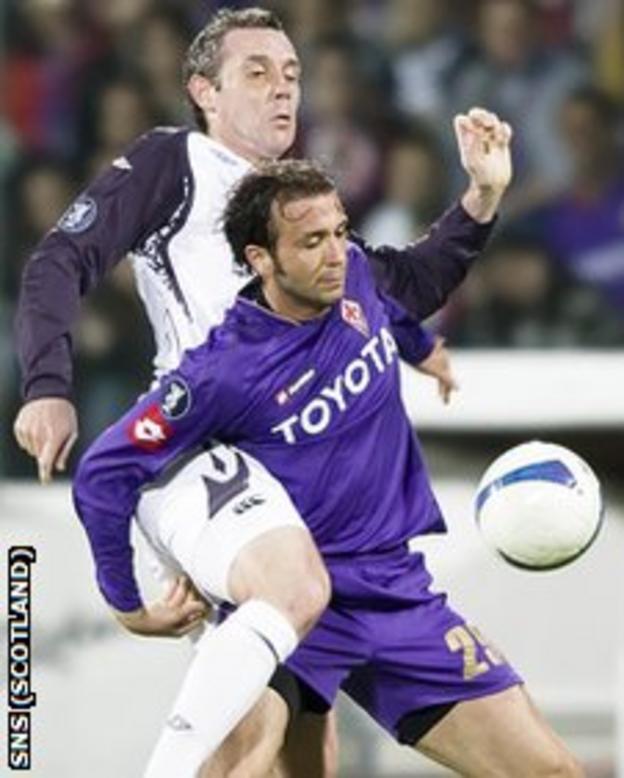 Just like their Scottish counterparts, the Tuscan side bore the brunt of plenty of jokes from their traditional rivals - happy to gloat at their demise. It has been little consolation that the Florentines were not the first or last club in Italy to suffer a similar fate. To this day, it remains a source of bitter memories and recrimination.
Where the Italian side's problems differed from those currently being suffered by the Glasgow giants was that there had been no recent takeover. The Cecchi Gori family had been in charge of the club for more than a decade, enjoying some good times, before the wheels fell off.
In hindsight, many pinpointed the death of Vittorio's father, Mario, in 1993, as a turning point for the club. Without his more calming influence, they reasoned, the financial affairs of the Viola ran out of control.
Cecchi Gori junior certainly became a hate-figure for the Florentine faithful and remains so. He was seen as to blame for sending a noble club - twice Italian champions and once triumphant in the first ever Cup Winners' Cup final (against Rangers) - to their lowest ever ebb.
Craig Whyte should be warned that fans can be slow to forgive.
There is a further twist in the fact that the Glasgow side should be following Fiorentina down the road to financial heartache. Back in the Cecchi Gori era, Tuscany became a favourite shopping venue for Rangers. Andrei Kanchelskis, Lorenzo Amoruso and Brian Laudrup (via Milan) all made the journey from the banks of the River Arno to those of the Clyde.
A consolation for followers of the SPL club is that there was, ultimately, a happy ending for the side from the Stadio Artemio Franchi. Under new owners, the shoe millionaires Andrea and Diego Della Valle, they soared back into Serie A in record time and were also allowed to reclaim the Fiorentina name.
Their Renaissance story was complete when the club found itself back in the Champions League and managing to knock Liverpool out of the competition before controversial elimination at the hands of Bayern Munich.
It was, however, a long journey back from staring into the footballing abyss and there was a lot of suffering along the way. There is always a light at the end of the administration tunnel, no matter how grim the situation may seem.
But you have to be prepared, like that most famous Florentine Dante Alighieri, to travel through both hell and purgatory before the promised land of footballing heaven becomes visible once again.