Chick Young's view on a bright future for Scottish football

By Chick Young
BBC Scotland football pundit
Last updated on .From the section Scotland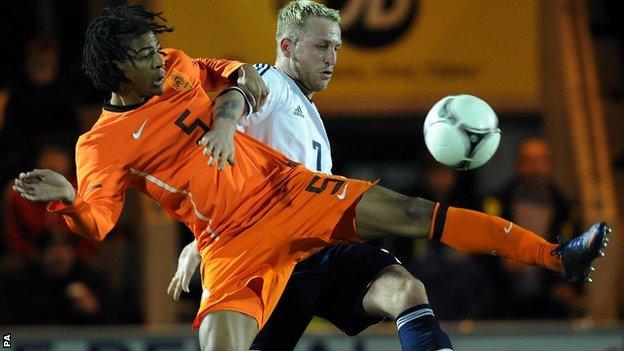 As Rangers stare into the abyss hoping, at worst, the next leap is a bungee jump, I have seen a sign that we may not be forced to live on the dark side of the moon.
St Mirren Park - with its 8,203 capacity - boasted of an official attendance of 6,607; reward for a fabulously sensible pricing structure from the Scottish FA with tickets available as low as £6 for adults and £2 for kids.
As I looked round 360 degrees of the stadium I had to wonder where 1,600 more souls could be shoe-horned in: it seemed as if someone's calculator had imploded. Or more than 1,000 seats had been burgled in the night.
Brilliant though; a wee reminder that there's still a huge appetite for our battered and bruised game; a philosophy underlined by defiant Rangers fans who are currently laying siege to the Ibrox turnstiles as if the Champions League itself had been won. Out of adversity comes unity.
Celtic, who now could not blow the championship if they fielded a team of Brownies in hoops, are big business too, with fans salivating at the demise of their toiling rivals.
But beware the lack of competition. Someone who would know pointed out to me that in the eighth season of Celtic's nine-in-row, winning was such a predictable habit that average attendances dipped to the 20,000-mark.
However, enough of the gloom.
I loved what Scotland had to offer under Billy Stark's instructions and against a Dutch team boasting that nation's usual swagger.
Most of all it was a Dundee United theme: Johnny Russell and Gary Mackay-Steven - underlining the rebirth of the winger - and Scott Allan who said hello and kissed goodbye to Tannadice in the briefest of flings, reminded of how it once was for young Scottish teams and proclaimed that it can be again.
Aberdeen's Ryan Jack, Ross Perry of Rangers, Danny Wilson of Liverpool and Paul Hanlon of Hibernian produced a stellar back-four performance against a slick Dutch side.
Dovetailed to a seemingly praiseworthy performance by the full side in Slovenia - although I would remind you that this is a nation with less than half our population - it was a fine night's work.
Through the murk of financial problems and general despair there might be hope.
And yet it's hard though, to tell that to the Rangers players who fear being sacked, to the staff of Dunfermline who have been victims of the ripple effect of the Ibrox distress, with the Pars unable to pay the wages because the Glasgow club can't meet a debt of £80,000.
Rangers stand accused of dragging the Scottish Premier League to its knees.
And so, salvation may prove to be at international level, first to the finals of the European Under-21 Championships to be held in Israel next year and beyond that - dream of dreams - all the way to Brazil in the summer of 2014 in what may prove to be the most electric World Cup finals of them all.