Thom Evans begins life in the fast lane
By David McDaid
BBC Scotland
Last updated on .From the section Scotland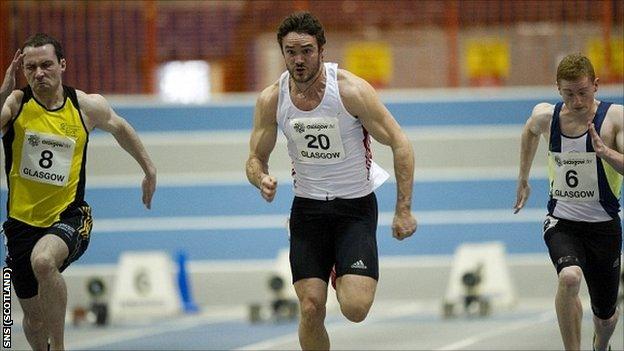 When he left his hospital bed in Cardiff two years ago, Thom Evans admits he never imagined he would see the day when he was a competitive athlete again.
"I was just happy to be walking again to be honest," he said.
At the Millennium Stadium, just 10 Scotland caps in, his promising rugby career was ended when he broke his neck in a collision with Wales full-back Lee Byrne.
He was also mere millimetres from severing vital arteries which carry blood to the brain, and losing his life.
Now, some small marks on the neck of the younger Evans brother represent the only external evidence of that traumatic accident.
He has also returned to professional sport as a track sprinter.
It's just the latest incarnation for the 26-year-old, who had a dalliance with pop stardom before finding rugby.
He already has plans for his next venture, although the Hollywood acting career is on hold while his body is young enough to make a go of sprinting.
"Athletics was something I always did seriously at school and I always felt I was faster than the other kids when I was younger," Evans told BBC Scotland's Sport Nation.
"Rugby took over but it was always in the back of my mind what could have been."
Cheered on by his model girlfriend Kelly Brook, as well as former Scotland and Glasgow Warriors team-mates at the city's Kelvin Hall, Evans finished fourth in the final of the 60m.
"It's great to be back. I got to the final and ran a personal best, so I couldn't have asked for more," said Evans, who looks and sounds like's found a new zest for life itself.
"I feel I've come away from a potentially fatal injury relatively unscathed and I'm just very grateful for that.
"I train six days a week and it makes me feel good.
"To be now competing at a high level is just that added incentive to go and train harder which I intend to do."
Fourth out of four finalists may not sound impressive.
But in the context of his first competitive run, against the best Scotland has to offer, and given that he managed not to false-start while two more experienced opponents did, it wasn't such a bad day after all.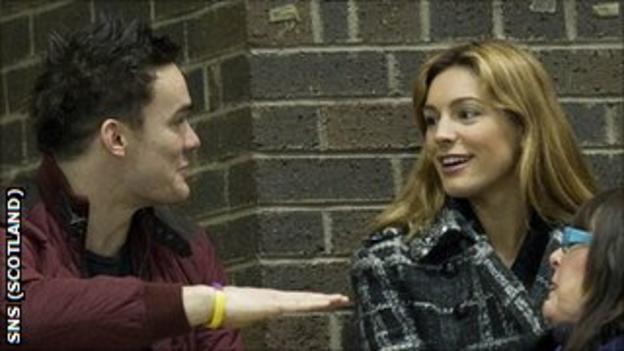 Evans' coach, Margot Wells, who also coached her husband Allan to his famous 100m Olympic Gold in Moscow in 1980 is full of admiration for her new student.
"To come to the Scottish Indoor Championships, with all the media attention and pressure, off the back of a three-month training plan - even just to choose to run - was amazing,"
"I've had to teach him how to do a block start, sharpen up what he had, strengthen him up a bit, make it more explosive and more efficient and throw him out there and see what happens."
For Evans, the transition from rugby to running has been challenging both technically and mentally.
"In rugby you're expecting guys to come at you from all angle and smash you," he said.
"And you can get away with slack technique while you're running.
"But in sprinting everything has to be on song and that's the difference between first and last.
"It's also strange being on your own, because before and international rugby game you have the other guys to talk to and encourage you, whereas in athletics you've got to get yourself up for it and it's tough.
"In the race, though, I still had to restrain myself from tap-tackling the guy next to me!"
With the 2014 Commonwealth Games just over two years away, it is the perfect opportunity to turn the already-remarkable Evans story into a fairytale.
So does he think he has a chance of improving enough to represent Team Scotland in Glasgow?
"In my mind it's a bit too soon to predict anything," said Evans.
"I just want to carry on through the Spring and Summer and concentrate on the events i think I'll be best at - the 200m and 400m - and just assess things from there.
"Having run today I saw there are some fine athletes out there.
"It's going to be no easy feat, but if I continue training like I have been then who knows what the future holds.
Coach Wells could not predict whether Evans would be make the grade, but she and her husband would give him the benefit of over 40 years of experience in the sport.
"I haven't got a crystal ball. I couldn't have told how good I thought Allan was going to be," she said.
"Two years before 1978 nobody would have thought Allan would have thought he'd win the Commonwealth Games 200m.
"So everything's realistic. That's the exciting thing - the journey."
You can see more on Thom Evans on Sport Nation on Tuesday, 6 March on BBC 2 Scotland from 1900 GMT.