Chick Young's view on Celtic's Treble chase

By Chick Young
BBC Scotland football pundit
Last updated on .From the section Scotland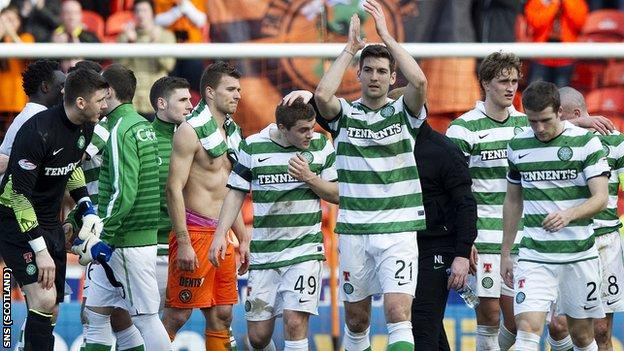 Tucked away in my wallet is a betting slip growing ever more valuable by the day: I invested - some time ago at a price of 100-30 - some hard-earned cash in the prospect of Celtic winning the domestic Treble.
Actually, I tried to couple it with the prospect of Blackburn Rovers surviving in the English Premier League, because not for many a year have I seen anyone conduct themselves with such dignity and class as Steve Kean, but the turf accountant in question refused my bet.
In any case, I digress.
The champions elect stand - in reality - just three games from me welcoming my ship coming in, for they could not blow the title even if they asked John Prescott to be their midfield dynamo.
So, Sunday's Communities League Cup final against Kilmarnock, a William Hill Scottish Cup semi against Hearts or St Mirren and a final in the wake of that… and I'll l be trousering my gotten gains.
Celtic feel they have been squeezed off the back pages by the toil and trouble of the neighbours on the south side. And they might have a point… but bad news flogs newspapers. It is a fact.
Every cloud has a silver lining.
While Rangers hawk everything that isn't nailed down - and how they must wish someone had put a stake and tent pegs through the Arsenal shares - tree fellers in the Amazonian rain forests are banking bonuses as they try to keep up with the demand for newsprint.
And yet it would be crass not to applaud the players at Ibrox who agreed to a 75% wage cut. Would you do it to bring your employer salvation, especially if you had the prospect of a new job at your previous salary? I'll leave your own conscience to percolate.
Frankly I can't blame Celtic if they currently feel as if they must have put an X on their coupon for 'no publicity'.
But they do deserve a bit of credit for a) what they have achieved and b) massaging my bank balance.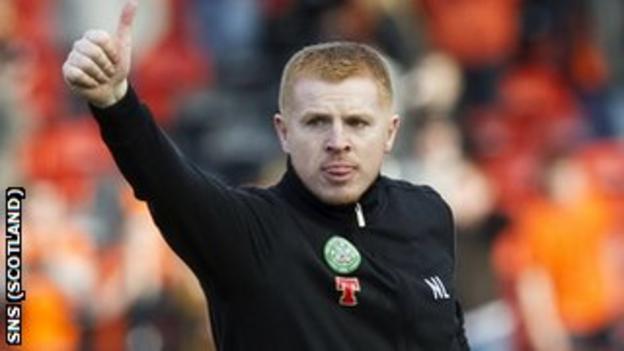 Prove me wrong, Kilmarnock, prove me wrong St Mirren or Hearts and Aberdeen or Hibs… but I still believe that the Parkhead trophy cabinet will be like a jeweller's window before May has breathed its last.
It is utter hogwash to suggest their victories are faded out because of an impotent Rangers, limp with the exhaustion of their financial toils. Remember that 15-point lead?
Around that time the Ibrox club still couldn't beat Malmo nor Maribor nor Falkirk nor later Dundee United as they evaporated from cup competitions like the tooth fairy in the night.
Celtic are the best team in the country and are entitled to instigate a party which might run from Sunday until the end of May.
But then what? Do we have worthy champions who can make a genuine dent in the Champions' League and can Motherwell - now poised to be our other representatives - hang on to their coat tails at least until the domestic season is under way again?
Too good for Scotland, still ill-equipped for the Big Boys' playground?
Celtic's real test will come in the European months between July and Christmas in the three or maybe five years to come, during which they will face no domestic challenge worth the name from Rangers, who will be leaden booted with financial restraint.
That is why Neil Lennon will take a baseball bat to any suggestion of complacency and insist on raising the bar yet again in the summer transfer market. Have you see the quality on offer in the latter stages of the two European competitions?
On which subject, incidentally, if I hear anyone else suggest that the English Premier League is better than La Liga, I'll insist on launching another Armada making its way to Plymouth Sound.