Chick Young on Messi and a mess that needs cleaned up

By Chick Young
BBC Scotland football pundit
Last updated on .From the section Scotland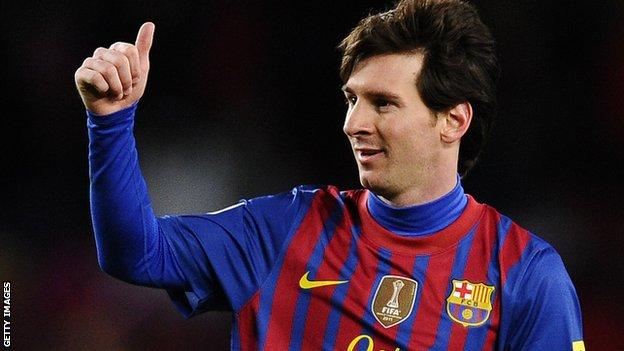 Bless him. Bless him from his dancing feet and those baby steps which hypnotise defenders, all the way to that football brain which sees and then executes football miracles.
In a soccer world of debt and despair, of bickering and bigotry, of crime and corruption Lionel Messi has made us smile again.
To be honest, I never thought I would see the likes of Pele again. Edson Arantes do Nascimento: the King of Kings. No-one, not Maradona, nor Cruyff, nor Best, nor Beckenbauer came close. Not in my world
But Leo Messi? To him I think even the Black Pearl must surely soon bow.
At the age of 24 he has done it all. Champions of Europe, best player on the planet, Olympic glory, Champions League, La Liga and Copa del Rey triumph and more goals than anyone who has played for Barcelona. What's left? The boat race, the Cheltenham Gold Cup and Crufts?
Thank you, Leo, for getting the ball out of the cupboard again and reminding us that this is still the beautiful game, that really we should be talking about what people like you can do and not about bailiffs and bankers.
Messi. Not that short of Messiah.
Meanwhile, here on the wee outcrop of rock in the North Atlantic we still toil at the coalface of football politics, petty jealousies, conspiracy theories and all round gloom and doom.
A championship race which is a cure for insomnia - save of course for jelly and ice cream consuming Celtic fans and the dancing in Dingwall - in both our top divisions.
Even the manufactured split - dreamed up to create some late excitement - is broken.
Ten clubs meeting in a secret squirrel kind of way, ready to take full advantage of a Rangers on their knees, desperate at least to swing the balance of power back their way by blowing to smithereens the concept of a 10-2 voting structure. They want 9-3 - a horrific scoreline to those of us who still remember Wembley in 1961 - as the favoured way ahead.
Curiously, Celtic are ready to act as a crutch to their oldest and allegedly most bitter, if currently impotent, rival to make sure that this doesn't happen. It is a strange old world right enough.
The ten may be right and they may be wrong, but this game of ours needs change. And soon.
Someone once told me that we should never be afraid to try something new, that it was, after all, an amateur who built the Ark, but a team of professionals who built the Titanic.
So any chance of getting on with it?
What is to become of us in this Messi-less little country?
The despair of Rangers - and hell mend them for their financial folly - remains a carbuncle on the face of our game, but they are not alone in fiscal strife. Currently, as he watches our little world, the head of the Grim Reaper is swivelling like that of a ventriloquist's dummy.
He must be licking his lips.
So forgive me for my bowing to little Leo to raise my spirits. But I need the lift. And I suspect my generation will never again see his like.
He has inspired us to talk about the game again. And for that we should be eternally grateful.