Will sparks fly in Old Firm game at Ibrox on Sunday?
Last updated on .From the section Scotland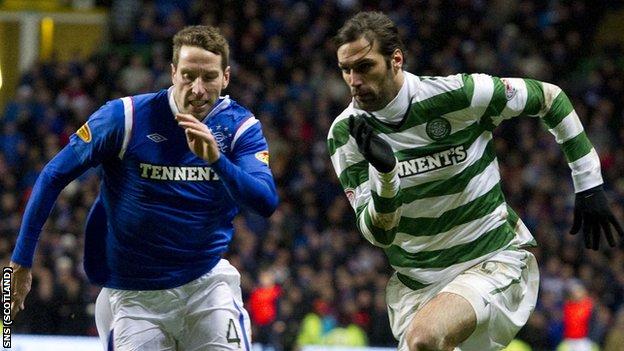 When Rangers won the Scottish Premier League at Celtic Park in May 1999, there were three red cards, two invasions of the pitch, the referee was struck with a coin thrown from the crowd and a fan fell from the top tier of the Lisbon Lions stand.
It subsequently became known as the 'shame game' and the Scottish Premier League took steps to prevent the fixture calendar throwing up another title decider between the two Glasgow clubs.
However, when Rangers entered administration on 14 February this year, Ally McCoist's side were subsequently deducted 10 points and they have dropped an additional nine points in the intervening weeks, setting up an unexpected title decider at Ibrox on Sunday.
It's been 45 years since Celtic last won the league title in a match against Rangers at Ibrox, and with Motherwell losing to Kilmarnock in Saturday's encounter at Rugby Park, they could be crowned champions on their fiercest rivals' turf.
BBC Sport hears the views of former Celtic and Rangers players, pundits and commentators on how this potential powderkeg of a fixture could play out.
Archie MacPherson, former commentator
"Who can tell how this one will go? I've been at Old Firm games where you didn't expect anything - it was just a normal mundane game, then suddenly all hell breaks out.
"Very often, with an Old Firm game if you build up expectations of trouble, it simply doesn't happen. This is a very special game - it's historic. Here is a Rangers club fighting for its very existence, so the game over 90 minutes has so many more ramifications than just the winning of the title. It's the survival of of a club.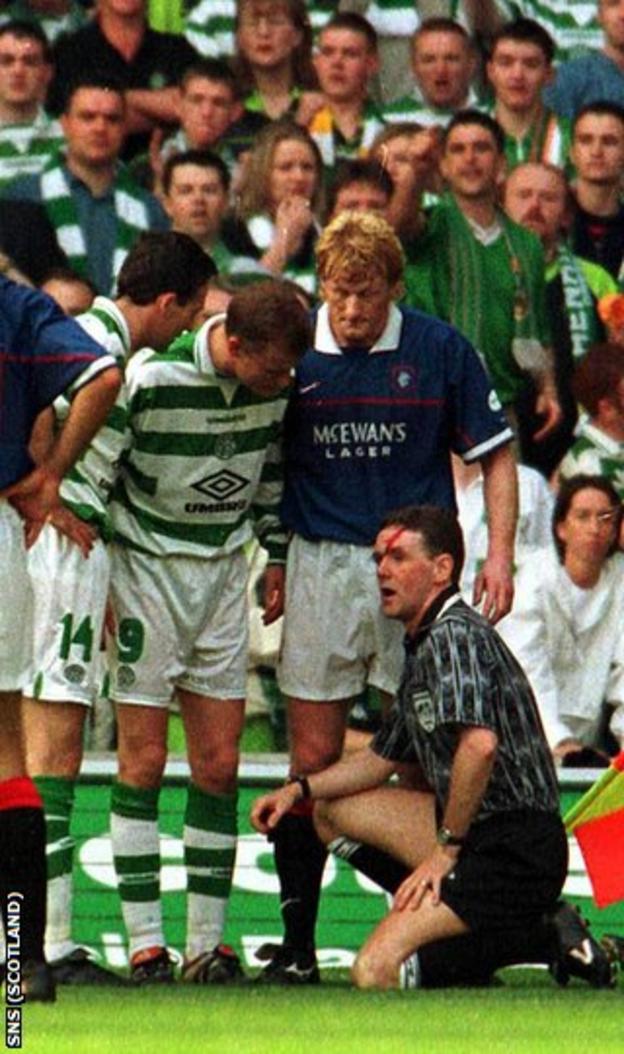 "When it last happened in 1967, when the players went off the park they had arms round shoulders, talking away pleasantly - there was no triumphalism. You got the impression that there was a fraternity of football there, and if the players on Sunday could borrow just a wee bit of that - which is based on common sense.
"Do they want to provoke anyone in this day and age with the level of publicity this game recieves? Given that so much concentration has been on avoiding a title clincher between the Old Firm, I don't think there will be any trouble. A draw would not be surprising."
Billy Dodds, former Rangers striker
"There's a responsibility on Old Firm days for the players, and the staff - but there's also a huge responsibility on this occasion, because of what might be with Rangers as a club on their knees.
"The game of shame in May last year taught the players and staff a lot of lessons. The Old Firm games since then have been pretty calm and respectful. But this is a whole new territory. We just don't know what will happen.
"If it goes the way it could go - where it's a title decider - it could do so much to the players and staff. We need calmness, composure and make sure people don't get carried away in any circumstances. I know what it's like from a footballer's perspective. The word in the dressing room is, "they are not winning the league title on our patch" - and that's exactly what Rangers will be saying."
John Hartson, former Celtic striker
"Rangers started the season very well and at one stage they were 12 points clear with a game in hand. So, potentially, they were 15 points clear and everything seemed rosy. Then, all of a sudden, it all came to the forefront and everybody realised how serious the situation was becoming.
"Celtic have been the worthy champions. They have been the best team in Scotland this year on a fantastic run, despite a poor performance last week against Kilmarnock, which was disappoiting.
"I still feel that irrespective of the 10-point penalty Rangers get for going into administration, Celtic would have run away with the title. Celtic can put the nail in the coffin in terms of Rangers and take the league title at Ibrox. I just hope there's no trouble."
Pat Nevin, BBC football pundit
"I cover quite a lot of Scottish football, and I watched Rangers play last week. The squad included Perry, Bedoya, Mitchell, McCabe, Kerkar and Little. No-one outside of Rangers knows who most of those players are, and the team looks weak if they don't get some players back from injury.
"If they don't get those players back, Celtic could get a win - and I don't just mean a win, I mean they could make it embarassing. Most of those players are youngsters; it's nothing against the players themselves, it's just the way things are at Rangers at the moment.
"There will be banter among the fans about Rangers' financial crisis, but you can throw as many fake £50 notes towards the Rangers fans as you like, but they won't care if they win the game and stop Celtic taking the title at Ibrox."
Archie MacPherson and Billy Dodds were speaking on BBC Radio Scotland's Sportsound programme. Pat Nevin and John Hartson were speaking on BBC Radio 5 live's Kicking Off.