Golf Show is par for the course
Last updated on .From the section Scotland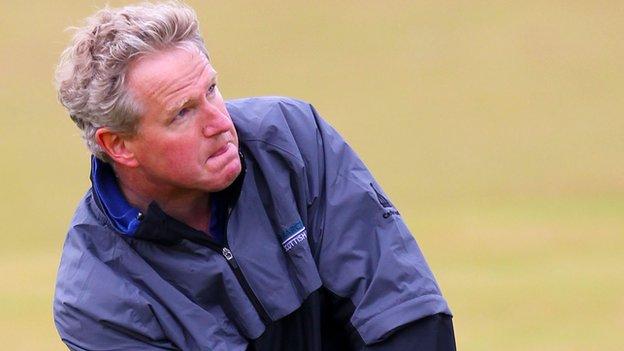 I adore golf. My family and friends would all vouch for the fact that, if I could have my way in some hedonistic paradise of do-as-you-please, then playing golf on some of the great courses of Scotland would fill at least half of my life.
As things stand I feel I do not badly on that score.
In Scotland we are privileged to inhabit one of the greatest, most naturally-endowed golf countries in the world.
This is something we aim to explore and celebrate when I present a new series of The Golf Show, which will air every Sunday morning at 10.30 starting April 1 on BBC Radio Scotland.
In the programme our aim will be to report and debate the game at home and abroad and, in the early weeks of the new 2012 season, to try to work out where Scotland stands in golf's global pecking order.
We have had our heroes in the past - Sandy Lyle, Colin Montgomerie, Sam Torrance - but what of the present? We'd like to hear our listeners' thoughts on this and much else.
Every week we will have a specific debating point, where Alan Tait, my regular studio sidekick, and I will chew over a topical theme - and this is another area where our listening audience can participate via email, text or tweet.
As the weeks go by, as well as celebrating golf from a Scottish perspective, we will also aim to apply a certain scrutiny to issues and events.
And then there are the fun parts, which consume the debating time of any bunch of golfers as they thirstily quaff their post-round refreshments.
In terms of Scotland's golf courses, what are the real hidden gems? What are your favourite holes? And one question that I always love asking - what are your favourite Scottish par-3 holes?
My favourite par-3, for instance, is probably the 3rd hole at Shiskine on Arran: the 128 yard flier up beyond the gorse to the Crow's Nest, from where only a very lucky golfer will claim a birdie on that sloping green.
I've played that hole many times and always found it exhilarating, whether I (miraculously) spear my 9-iron to six feet or shank one into the bushes. Not to mention the stunning view of the Kilbrannan Sound from up there.
I am also interested in the way golf attracts a wide range of people, from politicians to footballers to musicians, who cannot wait, at some point in their springs, summers or autumns, to get to the first tee.
In The Golf Show we plan to speak to such public personalities along the way, to try to discover what common themes there are in the way the game appeals to people.
If we choose our clubs correctly (and fill in our press applications) we will also be at the Scottish Open at Castle Stuart from July 12-15 and at The Open Championship at Royal Lytham the following week, where we hope to continue the debate.
You can get in touch with us via email: thegolfshow@bbc.co.uk or tweet me your thoughts to @bbcgolfshow. I'll be happy to hear your views.
Enjoy your 2012 golf season. It is a glorious and fascinating game. And please get in touch.
The Golf Show, presented by Graham Spiers, will air every Sunday morning at 10.30am (92-95FM / 810MW) on BBC Radio Scotland.