Chick Young on the SPL's relegation battle

By Chick Young
BBC Scotland football pundit
Last updated on .From the section Scotland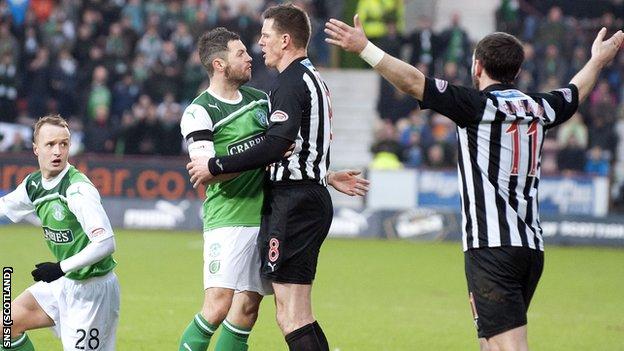 James Cameron has just plummeted seven miles under the Pacific: but that's nothing compared to the depths to which either Dunfermline or Hibs will plunge if they don't clean up their act twixt now and the season's end.
The movie mogul went down in a submarine. The relegated club will go down in tears.
But is it a two-horse race? Is it too late yet for Inverness and St Mirren to be dragged into the relegation quicksand? Well probably, actually.
So that'll be stark consolation to those who gaze at the storm clouds gathering over East End Park and Easter Road. Isn't the sun meant to rise in the east?
I feared for the Pars from day one. Remember it, a Monday night televised game against St Mirren at home, a trophy presentation and, in the end, a very lucky and undeserved draw.
It should, though, have been the first day of the rest of their Scottish Premier League lives and yet the lack of response from the town was depressing. In the end, they were forced to make a grandstand redundant, underlining the apathy. It was a crying shame.
It is not yet a year since I watched at Cappielow as Jim McIntyre ruined a perfectly good suit as they showered him in Champagne at the sheer joy of clinching a return to the big time. Now he is on the outside looking in as their new manager, Jim Jefferies, attempts the salvage operation.
Another big win for short-termism.
And what of Hibs? Here's one for the good people of Leith. Would you forsake a Scottish Cup win and the end of a century and more of drought just to stay up? Or the first win in the old competition since 1902 and relegation?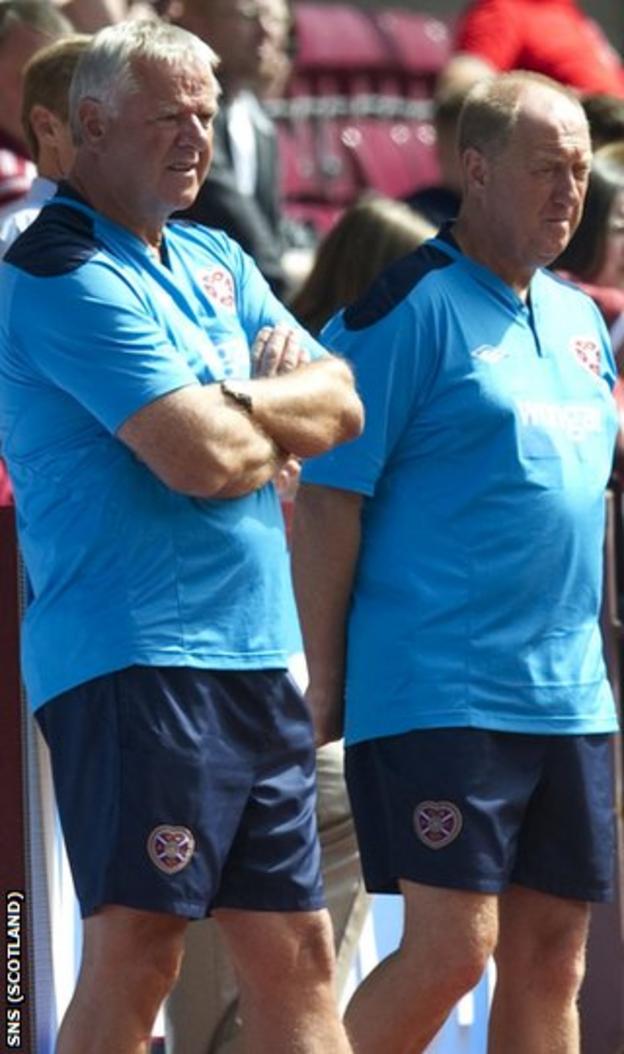 Now there's a headline that might rattle round the planet. And, if you ever wanted an example of Hobson's Choice, that's it.
Actually, that either Hibs or Aberdeen will be in the final on 19 May is in itself astonishing, for when they met early in the season at Easter Road it was quite the most dreadful impersonation of a football match I have seen.
If football was consistently that bad, it would have been outlawed with hare coursing, cock fighting and cricket, which isn't illegal but should be.
This could go either way. Dunfermline - I suspect - smell blood and it seems that it is Hibs, albeit with a three-point cushion, who are of a more nervous disposition.
But at least with a yawn of a league championship race all but over and the manufactured split providing no titillation at all, we at least have a thrill at the bottom as we gaze at the fight to the death across the Forth.
It's peppered with intrigue. Jim Jefferies - twice the manager at Tynecastle - trying to bring to its knees the club that represents the oldest rivalry involving Hearts. And come here, there's more - the assistant manager at Hibernian is his once trusted cronie, Billy Brown. Spooky.
I suspect that relegation, a chilling word in either boardroom, may turn the face of John Yorkston at East End just a little more ashen. Dunfermline's financial state is perilous, although they won't actually be delirious in the Easter Road boardroom about away days to Greenock, Falkirk, Livingston and, wait for it, Cowdenbeath.
It's not going to be pleasant to watch. But it's amazing how much money horror films make.