Golf Show: The golf season is now in full swing
By Graham Spiers
Golf Show presenter
Last updated on .From the section Scotland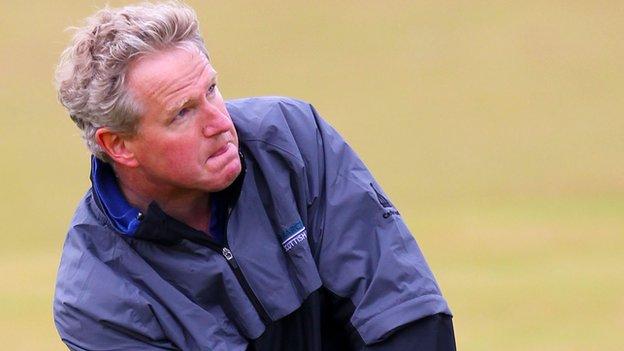 In Scotland there is a sacred rite of passage on the Sunday evening of the Masters when the final round is played.
It goes like this: pack the kids off to bed, turn the lights low, switch the mobile to mute, have your beer or wine to hand.
Last Sunday night the final round from Augusta was to be savoured, with golfers watching on TV and dreaming of their own weeks and months ahead out on the links.
The Masters emphatically means the golf season is here.
Like others, I was well chuffed for .
Watson, as has been noted, is self-taught in the game, having scarcely had 60 seconds of instruction in his life. This is wonderful, though there is also a wariness about it, too.
Seve Ballesteros, who was a golfing genius, was similar to Watson in the self-taught context.
It is not an exact parallel, because Seve had an uncle who was a pro, but he basically learned to play golf on the beach at Pedrena. His game, like Watson's, was instinctive and intuitive.
Yet, when Seve's game went to pot around the early 1990s there was no fixing it.
Having been an improviser, without the 'swing-mechanics' of a Nick Faldo, there seemed no remedy when disintegration set in.
Who would have believed, when Seve won the Open at Lytham in 1988 aged just 31, that it would be his last big conquest in the game?
I'm not worried for Bubba Watson. I hope he goes on to add to his fine triumph last week at Augusta. But self-taught golfers can sometimes have a game that proves brittle in the medium-term.
One other thing about the Masters… Television does not quite show every nuance of Augusta National. For instance, the first time I went there, I was staggered at just how steep the climb is up to that 18th green.
Little wonder guys like Arnold Palmer and Jack Nicklaus, when they were competing in their later years, looked fit to expire when they finally staggered on to that elevated green.
The 18th at Augusta also reveals how radically changed the game of golf has been over the past 25 years.
For example, there is debate today about whether Greg Norman fired a 4-iron or 5-iron into the crowd when he attempted his (disastrous) approach shot to the 18th green in 1986, the year Nicklaus won a sixth green jacket.
By 1997 Tiger Woods was playing a 9-iron to that green. It seemed just about inconceivable that Norman had required a 5-iron years earlier.
As golf got bigger and stronger (and longer) they took that Augusta 18th tee back by about 55 yards in total, one of many changes the course has undergone over recent years.
We like to chat about all this and much more on The Golf Show. You can contact us on Twitter at @bbcgolfshow.
Or you can email thegolfshow@bbc.co.uk. Let us hear your views on all golf-related topics.
My favourite courses: Lundin Links
This is a classic Scottish links course, is thrilling to play, and will forever rank among my top 10 Scottish courses to play.
From the very first tee, running worryingly adjacent to the beach on your left, you look out upon a great sweep of undulating linksland ahead of you.
'Lundie' is the absolute embodiment of traditional, testing Scottish golf.
My favourite holes? The 4th, which is the hardest on the course, is a 415-yard par 4 which requires - if your tee-shot is straight enough - a nerve-shredding approach over a minor ravine to the green.
The 14th is also an exhilarating par 3: a tee-shot from high above the green carrying 170 yards over gorse to the pin. In a facing wind you really have to lunge at it.
I've played Lundin Links on baking summer days or in a windswept late autumn, and the sense of excitement and challenge never changes.
It fully merits its Open qualifying course status when the Open comes to St Andrews and is one of the real gems of Scottish golf.
The Golf Show, presented by Graham Spiers, will air every Sunday morning at 10.30am (92-95FM / 810MW) on BBC Radio Scotland.