Golf Show: The art of the "gimme"
By Graham Spiers
Golf Show presenter
Last updated on .From the section Scotland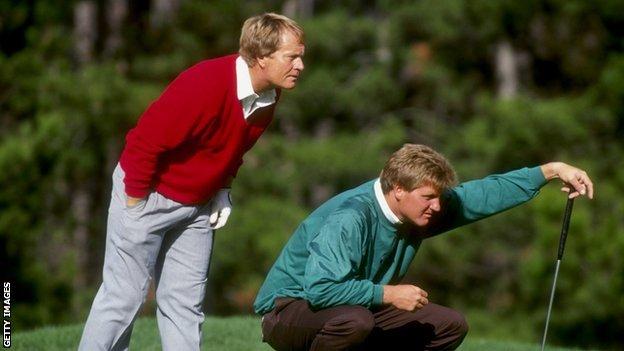 Playing matchplay golf recently with a friend, in which the stakes grew higher and the tension rose as the round reached its conclusion, the subject of the "gimme" putt once again reared its contentious head.
The "gimme" is one of many good-spirited aspects to golf, whereby a putt roughly inside of 20 inches will generally be conceded by an opponent. The Americans used to say that if the ball was "inside the leather" then it was good, just pick it up.
Being "inside the leather" was a reference to the way old putters once had leather grips.
Golfers would say that, if a short putt measured roughly the distance from the bottom of the putter-grip to its clubhead, then it was "inside the leather" and should be conceded.
But what happens if it is a 20-inch putt with a faint "break" either way on a fast green?
I've seen situations when a golfer, peering anxiously at such a putt for his par, will say "that's a gimme, right?" when it is perfectly obvious he is dreading having to play it.
I've said the same myself on countless occasions. Many such putts can be absolute knee-knockers.
Jack Nicklaus famously conceded a two foot-plus putt to Tony Jacklin in the 1969 Ryder Cup matches at Birkdale. "Tony wouldn't have missed it," Nicklaus said later to perplexed reporters, many of whom had viewed the putt as very missable.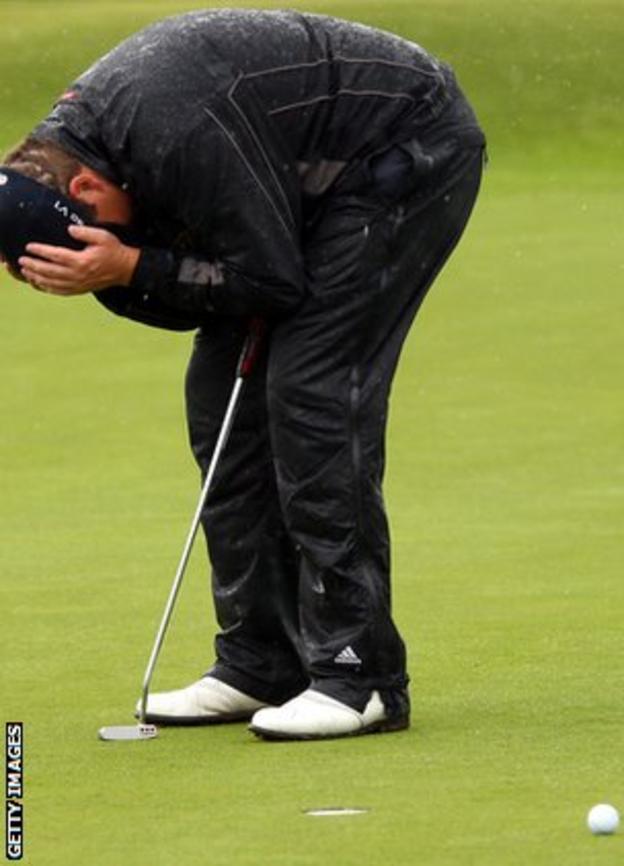 It was regarded as an extremely sporting gesture, especially given that, had Jacklin missed the putt, Nicklaus and the USA would have won that Ryder Cup, rather than draw 16-16.
I have to admit I've never been fully clear in my mind about "gimmes".
Some, such as short, straight putts, are obvious.
Others, however, even if they are "inside the leather", are eminently missable, especially on fast greens. And even more so if there is a dinner tab to be picked up later that night by the loser.
We like to chat about all such quirks on The Golf Show. You can contact us on Twitter at @bbcgolfshow.
Or you can email thegolfshow@bbc.co.uk. Let us hear your views on all golf-related topics.
My favourite courses: Boat of Garten
Among the great variety on offer to Scottish golfers, the beauty and quality of the James Braid-designed Boat of Garten make it well worth a visit.
Not least of the many splendours of "The Boat" is its setting: straddling the River Spey and sitting at the foot of the Cairngorms, the backdrop to the golf course can be spectacular as you navigate your way around 18 testing holes.
On a number of occasions, with my golf clubs rattling in the back of my car, I have deliberately planned my Highland business so that a few hours' detour off the A9 to play the Boat is no great disruption.
The course is not long but its hilly, undulating contours make for a captivating experience. It also offers a number of striking par-threes.
Given its mountainous Speyside setting, the best times to play Boat of Garten are between May and late September. You won't be let down.
It is a further reminder of the sheer variety of fine golf courses Scotland has to offer.
The Golf Show, presented by Graham Spiers, will air every Sunday morning at 10.30am (92-95FM / 810MW) on BBC Radio Scotland.