SPL: Neil Doncaster explains delay on financial fair play vote
Last updated on .From the section Scotland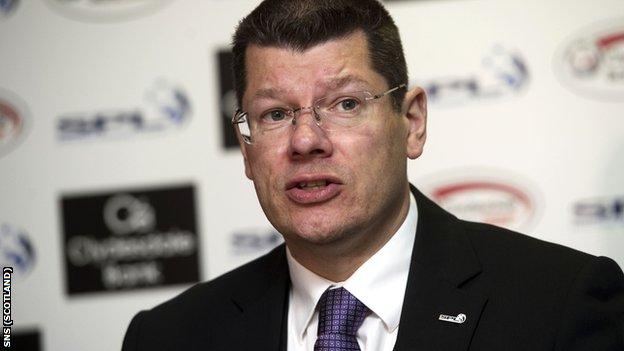 Scottish Premier League clubs delayed a vote on financial fair play because "passions are running high," according to the SPL chief executive.
Neil Doncaster said the delay may see developments at administration-hit Rangers.
"These aren't rules that are simply going to affect one club; they could potentially affect all 12 clubs," he told BBC Scotland.
"Scottish football is in a very sensitive position."
The 12 top flight clubs met at Hampden to discuss increasing the points deduction for teams in administration from 10 points to at least 15.
Any club applying for re-entry as a 'newco' would also be docked 10 points for two seasons and lose league income.
Clubs will meet again at Hampden on Monday 7 May.
There was also a balloting delay on plans to change the voting structure to a 75% majority away from the current layered approach which sees major change needing an 11-1 majority.
"Passions are running high," Doncaster told BBC Radio Scotland's Sportsound.
"And the right thing to do is let some of the heat come out of the situation; let clarity emerge from Ibrox over the next few days and, in that context, potentially get round the table again next Monday.
"What's important is that we have a full set of financial fair play rules to ensure there's a motivation to live within your means."
Doncaster added that he "saw no reason" why the delay would hamper the process of finding a preferred bidder for ailing Rangers.
Asked if a vote will take place at next Monday's meeting, Doncaster replied: "Who can say?
"Given how fast moving the [Rangers] situation is, the view was that the best thing to do at the moment, rather than rush through rules that may have unintended consequences, is to have a further period of reflection and a further discussion of those rules.
"Clubs can shed a huge amount of debt already," Doncaster added. "Clubs can theoretically shed £100m of debt, agree a CVA at a penny in the pound and come back in with all that debt shed. Clubs can do that now within the rules.
"Oddly enough you might end up with more money going to creditors through the newco route than through a CVA."
The SPL did agree to strengthen financial disclosure requirements that are designed to make sure clubs have no outstanding debts due to any league rival as of 31 December in any year.
Pitch protection rules will be introduced next season to minimise the risk of damage during pre-match warm-ups, along with new media co-operation rules to ensure clubs meet their obligations with SPL broadcasters.
Rangers, who have been in administration since February, have appealed against last week's decision by the Scottish Football Association to hit them with a 12-month ban on signing players as well as fines totalling £160,000 for breaching various regulations related to finance.
And angry Rangers supporters have already threatened to boycott away matches if their SPL rivals agree on sanctions they believe are unfair.
The potential new regulations were drafted in the wake of the Ibrox club's descent into administration amid a potential debt of £134m.
Rangers were docked 10 points this season and the proposals would see them lose a third of this campaign's tally if their situation has not changed in time for the new term's kick off.
Former SPL chief executive Roger Mitchell believes a solution will eventually be found that keeps Rangers in the top flight.
He told BBC Radio Scotland: "The clubs vote principally through self-interest and they will all have had a word with their bank managers, who will have said 'whatever you do, make sure you still have revenue from a television deal and from Rangers fans coming through the turnstyles'."