Imogen Bankier has set her sights on badminton Olympic gold
By Stevie Miller
BBC Sport Scotland
Last updated on .From the section Scotland
Scottish badminton star Imogen Bankier has described the chances of claiming gold at London 2012 as "realistic".
Bankier and English partner Chris Adcock are tenth in the mixed doubles world rankings, but, after a second-place finish at last year's World Championship, the pair are confident.
The Olympic event will be held in the same arena where they won silver.
"It's an outside chance but it's still reasonably realistic," Bankier, 24, told BBC Scotland.
Bankier has a European bronze to go with that world silver and she admits she would love to add to her medal collection.
"To complete the set would be nice," she said.
"Of course we want a gold medal and that's what we're dreaming of.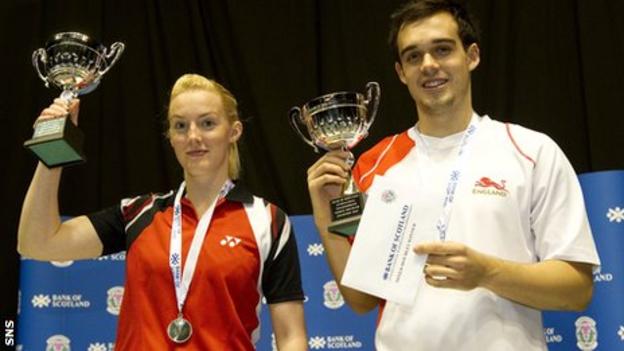 "It's the pinnacle of any badminton player's career, it's going to be the most exciting experience of my life so far.
"We're doing a lot of good training and I just hope we put in a good performance."
Bankier is happy to be rid of the pressure of qualifying, having played 19 tournaments over 12 months to secure selection, and is looking ahead to performing at her peak.
She said: "It's been stressful, it's been intense. We've had a great rivalry with the other GB pair for selection and have had to stay on our game and consistently maintain good results.
"Now we've got nothing to lose. We've done all the hard work and it's just about doing the best training we can and getting ourselves in the best shape mentally and physically again for the Games.
"We got a silver medal at the world championships and the pair that beat us in the final, who are world number one, we've since beaten them twice.
"But I don't think there's any expectation on us because we are ranked tenth in the world.
"We've got a great shot of doing well, especially in front of a home crowd."
Susan Egelstaff, meanwhile, who will compete for Team GB in the women's singles, is just as thrilled as her fellow Scot Bankier to be competing in the Games, but she has more modest ambitions.
"I'm not expected to get a medal," she admitted.
"In women's singles, the Chinese are so dominant it would be a surprise if anyone breaks their dominance.
"I just really want to go and perform well and play my best and just enjoy the whole experience.
"This is literally a once-in-a-lifetime opportunity. I just can't wait."
After qualifying ahead of England's Elizabeth Cann, Egelstaff, 29, said it took a while for it to sink in that she would be at the London Games.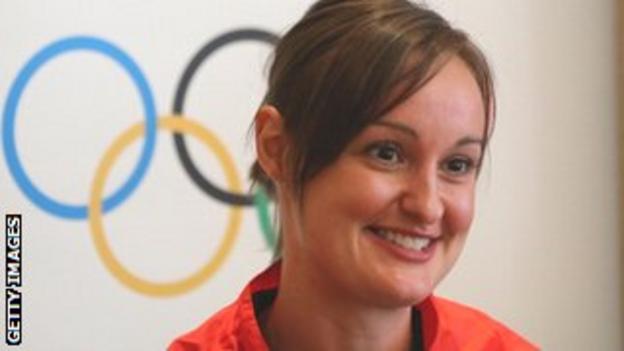 And she believes that having knee surgery actually helped her achieve the Team GB place, even though she was on crutches for a month.
She said: "The minute I had the operation nobody expected me to qualify and in a way it was a nice pressure just trying to see how I could do and how close I could get.
"I would never have chosen it to happen, but in a way it was a really good thing because for two months I didn't think about qualifying.
"The prospect of qualifying was just so far away that I think it did take the pressure off.
"I think the most demanding part was the mental bit of it. It's so stressful and it's something I've never experienced before, going into every tournament knowing it's almost life or death.
"I think a lot of it comes down to who can cope with the pressure best."