Golden Scots: Arthur Robertson, the accidental athlete
Last updated on .From the section Scotland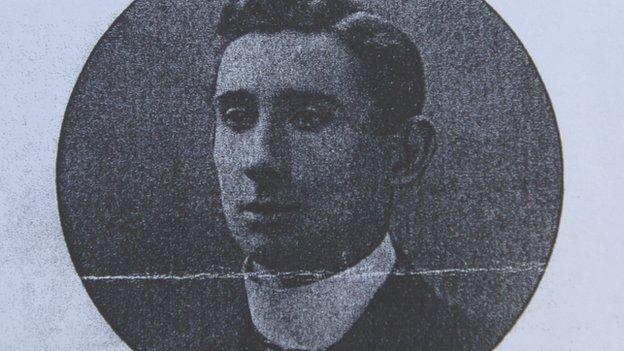 Largely unheralded today, Arthur 'Archie' Robertson was Scotland's first athletics gold medallist and one who also set a world record.
The son of a Scottish doctor, Robertson was born in Sheffield on 19 April 1879 and was educated initially at Glasgow's Kelvinside Academy and the King's School, Peterborough.
Although already a record-setter at distance running while at school, it was cycling that was Robertson's passion.
It was only after a cycling accident in 1905 that he began to compete seriously at athletics, aged 25.
Early success
A move to Birmingham's Birchfield Harriers Club in 1906 led to more success, and Robertson seemed to be peaking at the right time for the 1908 Olympic Games in London.
The magazine Sport and Play praised the manner of his victory in the English National Cross Country race at Newbury.
It said: "A stampede of people from the stand to the rails gave warning of the leaders' approach.
"It was seen that Robertson was out in front with a commanding lead and we all knew that his speed would get him home winner of the National Championship.
"Undistressed he came home, with his hands down - no side, no gallery play - a modest champion of the first order. Proud of his win, proud of his club."
Robertson went on to win the International Championship in Paris and finished runner-up in the 1908 AAA four-miles championship, before attention turned to the Olympic events at London's White City Stadium.
Three-mile team race
In his first event, Robertson, along with William Coales and Joe Deakin, comfortably collected gold in the three-mile team race, ahead of the USA.
The men's three-mile team race was a unique event which appeared only at the 1908 Summer Olympics in London.
In this race, each competing nation sent five athletes with points being awarded for the finishing position of the athletes from each country. Points were then added together and the team with the lowest score won.
The British team finished first, second and third. Robertson crossed the line second, giving an unbeatable final score of six points.
The Games were not over for Robertson who, just three days later, came close to doubling his gold tally in the 3200m steeplechase, losing out to fellow Briton Arthur Russell by only two metres.
After London
With the ending of the London Games, Robertson crossed the North Sea for a racing tour of Scandinavia. Running almost every day, he won several races.
His greatest triumph took place on 13 September 1908 in Stockholm when he defeated Swedish world 5000m record-holder John Svanberg.
This performance not only took more than a dozen seconds from Svanberg's previous record but also would have been fast enough to win bronze in the 1924 Paris Olympics 16 years later.
Only one year later, at the age of 30, Robertson retired from athletics to return to cycling after a mercurially short athletics career in which he scaled the heights of national and international success.
Robertson settled in Peterborough where he and his brother ran a sports shop for many years.
Arthur Robertson died in 1957 and was inducted into the Scottish Sports Hall of Fame in 2004.
Golden Scots
Other Scottish gold medal winners at the 1908 Olympic Games included 400m runner Wyndham Halswelle and water polo player George Cornet, who won the first of his two gold medals.
Rower Angus Gillan also won the first of his two gold medals in the coxed eights.
Find the stories of other Golden Scots via this link.