Golden Scots: George Cornet wins two water polo golds
Last updated on .From the section Scotland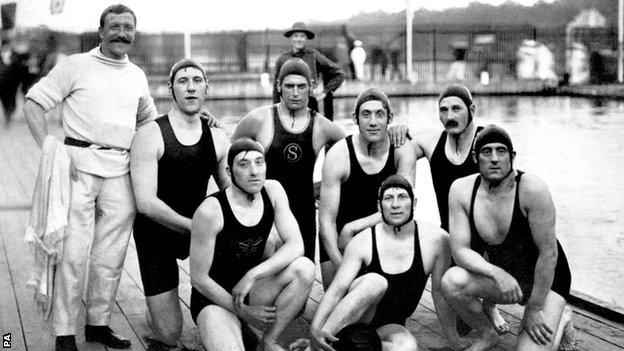 George Cornet was the oldest member and solo Scot in the British water polo team which won gold in the Olympic Games of 1908 and 1912.
An all-round sportsman over six foot tall, he played football and cricket for Inverness teams as well as competing in heavy and track athletics events.
Born in Inverness in 1877, he played as a back for the Inverness Amateurs team that won the Scottish Championship once and reached four other finals.
He represented Scotland 17 times between 1897 and 1912.
According to swimming historian Peter Bilsborough, Scotland can take great credit for developing the modern game of water polo.
Members of Aberdeen's Bon Accord Swimming Club started to play a ball game in the water called "aquatic football" in the early 1870s.
Players had to sit in the water and kick the ball with their feet when passing or shooting for goal.
William Wilson, president of the Associated Swimming Clubs of Scotland (ASCS), was asked to develop an alternative to the swimming races to keep spectators entertained.
He suggested a game of aquatic football that would allow handling. As the first game was played in the River Dee, players had to be strong swimmers to stop being swept away by the currents.
Different versions of the game were played: the type of ball was changed, goals similar to those used in football were introduced, standing on the bottom of the pool became an offence, catching the ball with both hands was abolished.
What resulted was an exciting sport. It was fast, exciting and required strength and skill. Crucially, it required little equipment so it was open to all classes of people.
Swimmers enjoyed it as a change from the monotony of lane swimming and spectators enjoyed its drama.
By the turn of the century, there were international ties in addition to Scottish regional matches being played.
It was into this exciting competitive world that George Cornet entered.
His Inverness Amateurs team was one of the best in Scotland in the early 20th century.
From 1906 to the outbreak of the First World War they competed in five Scottish Cup finals. The other top sides of the day were Wyman and Paisley Amateurs.
George Cornet married twice, his first wife dying giving birth.
He had a son with his first wife and a daughter when he remarried.
Cornet was secretary of the Highland Railway then, after amalgamation, divisional cashier of the London Midland and Scottish Railway.
He died in Liverpool in 1952.
Golden Scots
Other Scottish gold medal winners at the 1908 Olympic Games included 400m runner Wyndham Halswelle and three mile team race winner Arthur 'Archie' Robertson.Angus Gillan, also rowed to the first of his two gold medals in the coxed eights.
In 1912, Cornet was joined as a gold medallist by a variety of Scots in the Great Britain team.
William 'Wally' Kinnear proved unbeatable in single sculls, Angus Gillan and Philip Fleming shared the coxed eight victory.
Henry Macintosh triumphed on the track in the 4 x 100m relay, Robert Murray in rifle shooting and Isabella Moore took home gold in the 4 x 100m swimming team event.
In 1920, Scotland scored another water polo gold with Paisley's William Peacock.
Find the stories of other Golden Scots via this link.