Golden Scots: Angus Gillan scores an Edwardian double on the water
Last updated on .From the section Scotland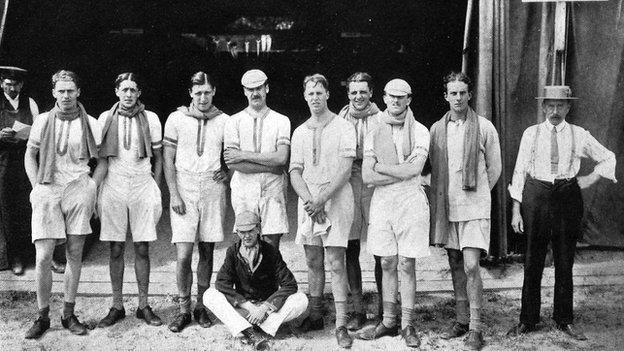 Angus Gillan rowed to two gold medals while building a distinguished career as a diplomat in East Africa.
Aberdeen-born Sir James Angus Gillan (third from left, above) followed a recognised route to success on the water and the colonial service.
In the early years of the 20th century, his gold medals were won while laying the groundwork for his lifelong involvement with the colonial and diplomatic service.
Early days
Born in 1885, he was educated at Edinburgh Academy and Magdalen College, Oxford.
He competed in the 1908 and 1912 Olympics, winning gold on both occasions.
Before his Olympic appearances, Gillan was already an established team member of his college and university crews.
He rowed for Oxford crew in the 1907 Boat Race, when the dark blues were beaten by Cambridge by over four lengths.
Olympic success
In London in 1908, rowing events took place at Henley-on-Thames. The coxless fours crew from Magdalen College, Oxford, including Gillan, was one of two selected to represent Great Britain.
In an all-British final, the University crew went on to take the gold medal against Leander, one of the world's most prestigious rowing clubs.
Between the 1908 and 1912 Olympic Games, Gillan again rowed for Oxford in the 1909 Boat Race.
In the same year, Gillan joined the Sudan Political Service. However, 1912 found him home on leave and rowing with the Leander Club.
At Stockholm in 1912, Great Britain had entered two crews in the men's eights event.
As a member of the Leander crew, Gillan rowed to gold in the final against New College, Oxford.
In the same Leander crew was another Golden Scot, Philip Fleming.
After Stockholm
Gillan continued to remain deeply involved in the politics and development of the Sudan for the next 30 years.
He worked with many leading political figures of the age to raise awareness amongst the Commonwealth community of the emerging African nation.
He was appointed a CMG in 1935 for "extraordinary or important non-military service in a foreign country" and dubbed a knight in 1939.
His involvement with Olympic sport did not end with his gold medals. He played a significant role in the organisation of the 1948 London Olympics.
The latter years of his diplomatic career took him to Australia until 1951.
Even after his return to the UK, his lifelong interest in promoting cross-cultural links internationally continued. He became chairman of the Royal Over-Seas League between 1955 and 1962.
Sir Angus Gillan died at Leigh in Surrey in 1981, at the age of 95.
Golden Scots
In 1908, Gillan shared gold with water polo player George Cornet, three-mile team race winner, Arthur 'Archie' Robertson and Wyndham Halswelle in the 400m.
He was one of several Scots who took home gold in 1912.
In addition to Gillan, his team mate Philip Fleming shared the Leander crew's coxed eight victory.
Henry Macintosh, triumphed on the track in the 4 x 100m relay, Robert Murray in rifle shooting, 'Wally' Kinnear in single sculls and George Cornet, who also won his second gold.
Swimmer Isabella Moore also led the 4 x 100m women's relay team to victory in the first Olympic Games swimming events for women.
Find the stories of other Golden Scots via this link.