Golden Scots: Govan's golden girl, Isabella Moore
Last updated on .From the section Scotland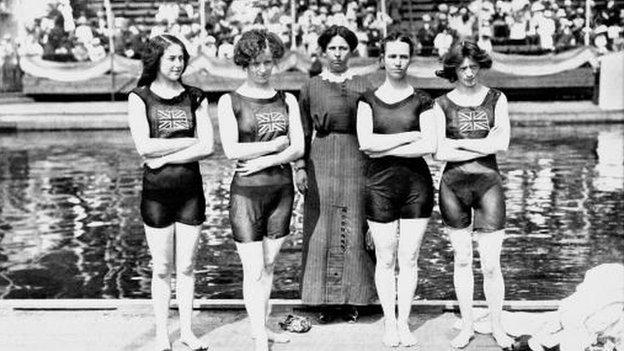 At 17 years and 226 days old, Govan-born Bella Moore is the youngest British woman to win gold at a summer Olympics.
Although the London Olympic Games of 1908 were the first to open the door to women's swimming, events were cancelled due to a lack of competitors.
The first women's swimming events staged were at the Stockholm Olympic Games of 1912.
Great Britain sent a team of six swimmers to Stockholm to compete in the two inaugural women's swimming events.
Moore took part in both competitions.
Early life
Moore was born in Glasgow's Govan in 1894.
She was the eighth of nine children, all of whom were taught to swim as part of a compulsory programme for schools introduced by the city of Glasgow.
Her aptitude for swimming was clear from the start. The International Swimming Hall of Fame records that "Her instructor encouraged her to continue and because she was so dedicated she often walked 2 to 3 miles to a pool."
Her commitment paid off and, at the age of only 17, she was invited to be part of the first Great Britain Olympic women's swimming team at Stockholm.
Stockholm 1912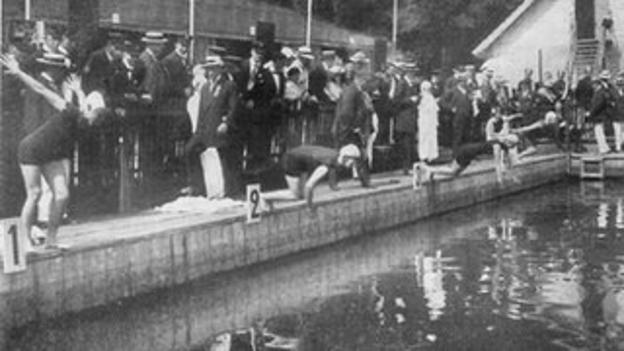 Two women's races were staged: 100 metres individual freestyle and a 'team 400m' or 4 x 100m relay.
Moore swam in both. In the first heat of the 100m, p.726 of the 1912 Olympic Games Official Report states that she "led at a good pace, and won without being threatened" in order to qualify for the semi-finals.
In the semi-final she finished fourth, behind the brilliant Australian Fanny Durack and two of her GB team-mates and was eliminated.
After a few days break, the team 400m was held on 15 July.
The GB team was made up of Moore, swimming alongside Jennie Fletcher, Annie Speirs and Irene Steer.
Only four nations contested the final - Great Britain, Germany, Austria and Sweden.
After reportedly covering her long, dark hair with a rubber cap, Moore swam the first leg of the final where "Britain showed its superiority from the first moment, and the race never became exciting, as the team mentioned led all the way."
As this was the first Olympic race of its type, the GB team set the first 4 x 100m women's relay Olympic record at 5 minutes 52 seconds.
The team received their gold medals and laurel wreaths from King Gustav V of Sweden.
Unfortunately, efforts to ensure modest swimming attire for the British women proved fruitless when their swimwear proved virtually see-through once wet.
A century later, Moore is Scotland's only female swimmer to come home with a gold medal.
Demonstrating the huge advances in facilities, training and kit, the 4 x 100m women's Olympic record set at Beijing in 2008 by the Netherlands was a time of 3.33.76.
Prior to London 2012, that team are also world record holders with a time of 3:31.72.
After Stockholm
Her Olympic success spurred Moore on and, in 1913, she set a 200m freestyle record which stood unbroken for many years.
Shortly after the 1912 Games, Moore married and emigrated to the USA where she and her husband George Cameron, a naval architect, settled and raised a family.
She continued to swim in her adult years and coached thousands of youngsters.
Isabella Moore died in Maryland in 1975.
She has since been inducted into the International Swimming Hall of Fame, alongside the likes of Ian Thorpe,Anita Lonsbrough and Johnny Weissmuller.
Golden Scots
Stockholm in 1912 proved to be a vintage year for Scots gold medal winners.
Isabella Moore joined rowers Philip Fleming and his coxed eight team mate Angus Gillan.
Athlete Henry Macintosh triumphed on the track in the 4 x 100m relay, Robert Murray in rifle shooting, 'Wally' Kinnear in single sculls and George Cornet won his second water polo gold.
It was over 60 years later that another Scot, David Wilkie, was to bring home another Scottish swimming gold medal.
Find the stories of other Golden Scots via this link.