Golden Scots: Andrew Lindsay, businessman in a boat
Last updated on .From the section Scotland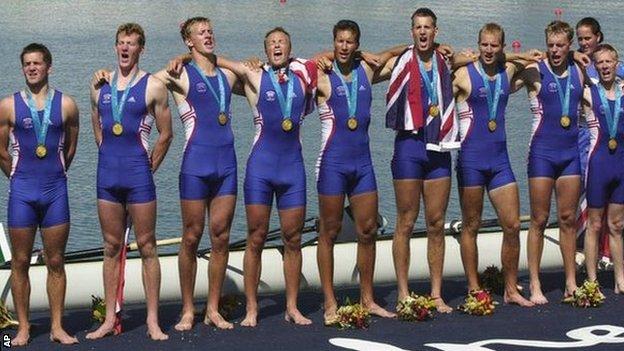 Skye's only Olympian, Andrew Lindsay, won an historic gold medal rowing as one of the coxed eights team at the 2000 Sydney Olympics.
Born in 1977, Lindsay (far left, above) began building his career as an top oarsman through the tried and tested route of Eton and Oxford's Brazenose College.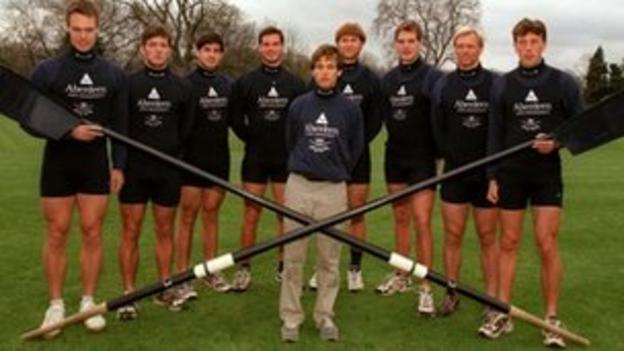 He first came to notice winning a 1994 bronze medal in the eights at the World Junior Championships, held that year in Munich.
Lindsay was a prominent figure on the university rowing scene, becoming President of the Oxford University Boat Club in 1998.
Although never on the winning side, he was a member of the Oxford Crew in the Boat Race of 1997, 1998 and 1999.
Sydney 2000
Lindsay continued his success in the eights taking a gold medal in 2000's Rowing World Cup, which led to his selection as a member of the coxed eights crew for the Sydney Olympics of the same year.
On 24 September 2000, Great Britain claimed a sensational gold medal by an 0.8 seconds victory over Australia in a hotly-contested six-way final.
The team perfomance that day is widely considered to be one of the most powerful displays of eights rowing of all time.
Leading from start to finish, they resisted a late challenge from the Australian team to cover the 2000m course in 5.33.08.
Lindsay was quoted in The Guardian as saying he had, "the best seat in the house", sitting in the bow of the British boat.
This was the first British men's eight to win an Olympic gold medal since 1912. That crew included two Scots, Philip Fleming and Angus Gillan.
The coxed eights team won the BBC's Sports Personality Team of the Year Award in 2000.
As part of the gold-medal winning crew, Lindsay was awarded an MBE in 2001.
After Sydney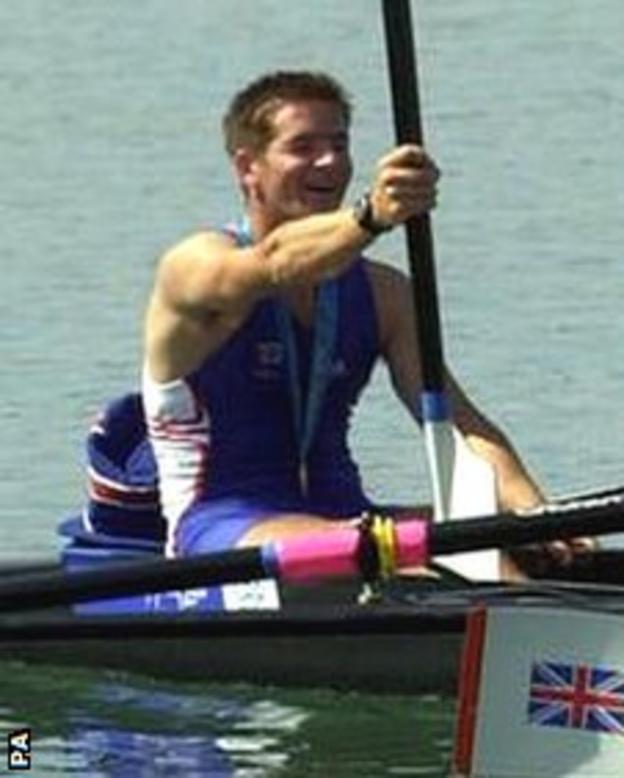 Following the team's success in Sydney, Andrew Lindsay turned away from top-class rowing to devote himself to building a career in business. He is now CEO for Telecom Plus PLC.
Harry Mahon, one of the team coaches for the race and considered to be instrumental in their success, died of cancer in May 2001.
Lindsay continues to honour his memory as fundraising manager with the Harry Mahon Cancer Research Trust, "dedicated to cancer research with any money raised to go towards purchasing state of the art machines for diagnosing the disease".
In his Debrett's entry, Andrew Lindsay lists his hobbies as "skiing, windsurfing, bagpipe playing".
Golden Scots
Other gold medal winners from Sydney in 2000 included women's pentathlete Steph Cook and Europe class women's sailing winner, Shirley Robertson.
Find the stories of other Golden Scots via this link.