Golden Scots: Budgett's 1984 gold alongside Redgrave
Last updated on .From the section Scotland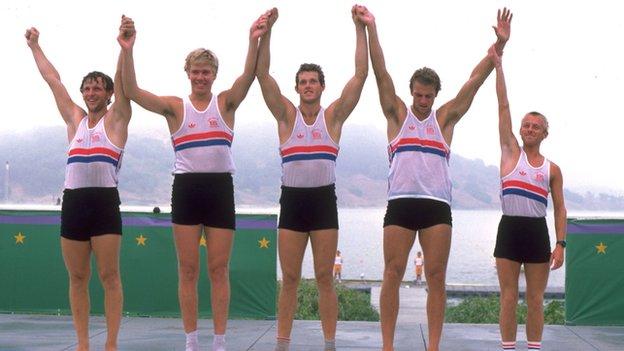 Glasgow-born Richard Budgett rowed with Sir Steve Redgrave when Redgrave won his first Olympic gold.
On 5 August, 1984 at Lake Casitas in California, the coxed four crew took the gold medal in a nail-biting finish with the USA.
Budgett (second from left, above) and Redgrave were members of the team which pulled ahead in the final 500 metres of the 2 kilometre race, beating the home nation by a margin of just under 2 seconds.
From Los Angeles in 1984, Redgrave went on to make Olympic history by winning five gold medals in successive games.
Early life
Born in 1959, Dr Richard Gordon McBride Budgett studied at Queen Mary College, University of London.
Martin Cross, another of the Los Angeles coxed four team, was also a Queen Mary student.
Budgett also attended the Selwyn College, Cambridge where he rowed as a member of the Hermes Club.
After Los Angeles
Dr Budgett's Olympic involvement has continued to this day in the fields of sports and exercise medicine.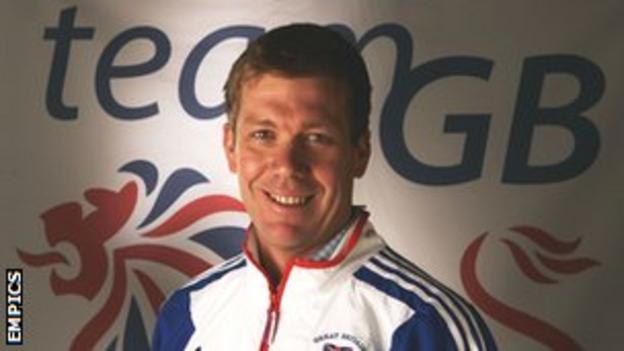 His career has involved working with teams of Olympic athletes from areas of expertise as diverse as bobsleigh and rowing.
Between 2005-2008, Budgett worked with the British rowing team, helping achieve unparalleled success at Beijing 2008.
Budgett headed up the Team GB medical team at the 1996 Atlanta,2000 Sydney and 2004 Athens Summer Olympics.
He is Chairman of the British Olympic Association Medical Committee and Director of Medical Services at the British Olympic Medical Institute.
He is a published author on sports injuries and has a particular interest in the subject of overtraining or UPPS (Unexplained Under Performance Syndrome).
London 2012
In February 2007, Budgett was appointed as Chief Medical Officer to the Games of the XXX Olympiad in London where he will be responsible for overseeing medical and anti-doping services.
In a strongly-worded interview for BBC Health, he emphasised his mission to ensure the 2012 Olympics will be no place for drug cheats.
In April 2012, it was announced that he had been named as the International Olympic Committee's new medical and scientific director.
He will take up his new position at the IOC in October, after supervising medical services at London 2012.
Budgett was awarded an OBE in 2003 and Fellowship of the Royal College of Physicians (FRCP) in 2011.
Golden Scots
In 1924, another Scot, James Macnabb also won gold in the coxless fours.
Find the stories of other Golden Scots via this link.