Golden Scots: William Peacock brings gold to Paisley
Last updated on .From the section Scotland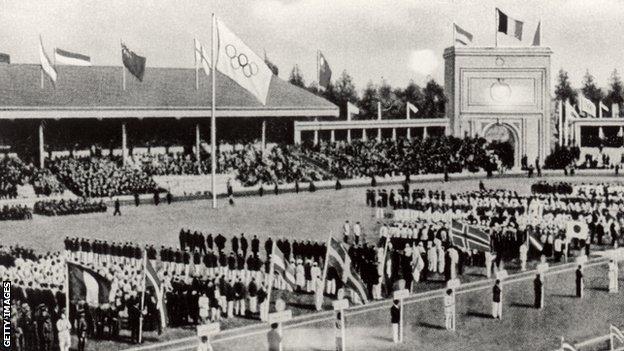 William Peacock scored the opening goal in the British water-polo team's gold medal win at the 1920 Olympic Games.
Born in 1891, he was a stalwart of the Paisley Amateurs, capped eleven times for Scotland and won numerous Scottish water-polo titles.
Antwerp 1920
The Great Britain water-polo team were very experienced in elite competition, having already won two Olympic golds and including winners of multiple medals within the team.
George Cornet of Inverness was one of those athletes, blazing the trail for Scottish water-polo players by winning gold in London in 1908 and again at the 1912 Stockholm Olympic Games.
Bill Peacock had been selected as reserve on the 1912 team, alongside Cornet, but is not recorded as securing a place in the team.
At the 1920 Olympic Games, swimming, diving and water-polo events were held at Antwerp's Stade Nautique d'Antwerp where the water was so cold and dark that swimmers needed to be warmed up after every event.
The British team scored a convincing 9-0 victory over Spain in the quarter-final against Spain.
Their 7-2 semi-final triumph over the USA then found them in the final with the host nation, Belgium.
In front of a partisan crowd, Peacock played a significant part in the British team's ultimate 3-2 win by scoring the opening goal.
The 1916 Olympics were scheduled to be held in Berlin but were cancelled due to the ongoing hostilities in Europe.
The Games of 1920 were the first to be held after the First World War Armistice.
Antwerp was chosen in memory of the victims of World War One and to honour the suffering inflicted on the Belgian people.
Peacock was selected for the 'Chariots of Fire' Olympic Games in Paris in 1924, but did not play.
William Peacock died in December, 1948 at the age of 57.
Golden Scots
Antwerp in 1920 also saw another Scot winning gold.
John Sewell from Halfmorton in Dumfries and Galloway was part of the team which took gold in the last Olympic tug of war final.
Find the stories of other Golden Scots via this link.